"It Seemed Insane" - James Arthur's Revealed The Details Of His Fling With Rita Ora & Fans Are Stunned
2 October 2017, 16:50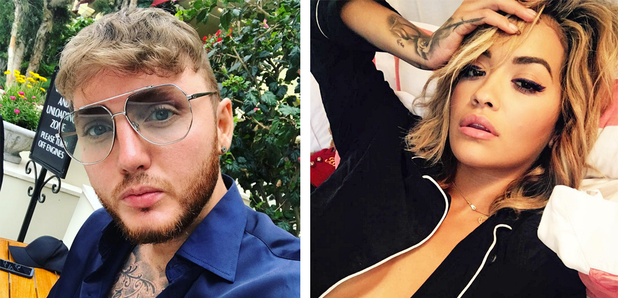 His new book has revealed a lot of things we didn't know!
When you win the X Factor, you know that your life is going to change. However when James Arthur won, it seems he wasn't expecting his life to change in quite the way it did.
Not only did he have the number one single in the country, but he also had the up close and personal attentions of Rita Ora!
> James Arthur Opens Up About Apologising To Simon Cowell For "Being A T***er"
In his brand new book 'Back To The Boy', James reveals exactly how the two came to hook up and exactly how he felt about the 'Your Song' singer.
Speaking about how he got close with Rita, James revealed, "I was so puzzled that someone like Rita was actually interested in me. I told myself this couldn't be real. Rita's made a mistake. She must think I'm someone cool. This is so confusing."
James explained that he ended up on Rita's tour bus before claiming, "There was a lot of magic there and it was an amazing night. Rita seemed really, really into me, but I still couldn't quite believe it. I wondered if she was a very good actress."
"Me and Rita met up a few more times after that and had some more amazing nights. 'I'm in love with you,' she told me one night. She said it so sincerely I wanted to believe her, though it seemed insane."
James then explained how Rita seemed to disappear into thin air and he wasn't able to contact her.
He went on to reveal, "If I'm honest, I became a bit of a slag after Rita. I was chatting to hundreds of women online or on Whats-App after swapping numbers with them via Twitter, and I started to sleep with so many of them I lost count."
Fans shared their shock at just how much James had revealed about his on/off relationship with the former X Factor judge, but we're glad he's settled down now with a long term girlfriend.
If James Arthur can romp Rita Ora. When he had the belly,buck teeth and scruffy hair. There is hope for us all. #luckysod.

— martin (@martink85) October 1, 2017
When I hear, I'm living in world, where James Arthur has slept with Rita Ora it makes me believe, anything is achievable #MondayMotivation

— Costasped1973 (@Costaped1973) October 2, 2017
> Download Our Swanky New App For All The Latest News On James, Rita & Pretty Much Every Amazing Music Star Around!
Whilst you're here, check out what happened when James Arthur covered 50 Cent's 'In Da Club' For Us!