Camila Cabello's L'Oréal 'Havana' Make-Up Collection Has Got Us So Excited
11 July 2018, 12:16 | Updated: 11 July 2018, 12:29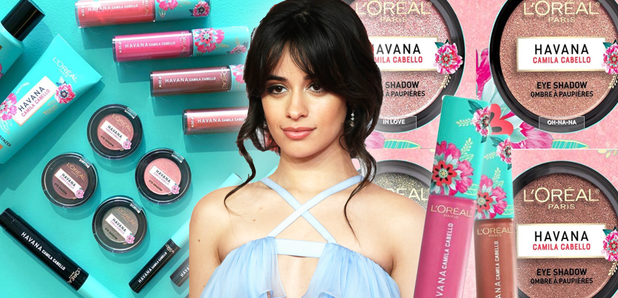 The 'Havana' singer is launching a make-up collection with L'Oréal Paris, inspired by her Cuban roots, including liquid eyeliner, lip glosses, bronzer, the whole kit, and we've got everything you need to know about it - YAS!
Camila Cabello's Cuban inspired 'Havana' make-up collection with L'Oréal Paris is about to drop, and honestly, it looks like everything we've ever needed... from shimmering bronzers and eyeshadows, brow products, to a liquid eyeliner that will allow you to get Cam's trademark flicks - if you need us, you can find us in the queue, because this whole line is designed to help you battle the heat but keep your face beat.
Camila Cabello's Reaction To Harry Kane Scoring At The World Cup Is Priceless
Camila has been a global spokeswoman and a face of the brand since 2017 and is the first to collaborate on a 14-piece line in which every product is 'between $10-$15 dollars' so, like, mostly under a tenner - so you can thank Cam for this collection being pretty easy on your purse strings. We don't have an exact date of when it's hitting our stores yet, but Cam assures us it's coming very soon, buzzing!
Inspired by her Cuban roots, Camila has helped to created lightweight make-up that can with stand heat and doesn't 'seep into your skin and block your pores' and TBH, with the weather we've been having, this is seriously important stuff.
She told ELLE.com: "I am so excited! The process of getting to build a line from the ground up and getting to pick out the shades, and the fragrance of the lip glosses, and the packaging design has been an incredible experience".
When asked what her favourite piece from the collection was, she replied: "I love the liner. To me, liner is really important. It stays on for a long time — I hate when eyeliner just sort of droops off. The way that the pen is shaped, it's a very thin, precise line. I'd also say the liquid bronzer. You can mix it with foundation, you can use it to contour, and it just gives you that summer glow."
Download Our Brand New App For All The Latest Camila Cabello News