6 Amazing Camila Cabello Moments You Missed From The AMAs
10 October 2018, 11:03 | Updated: 10 October 2018, 11:12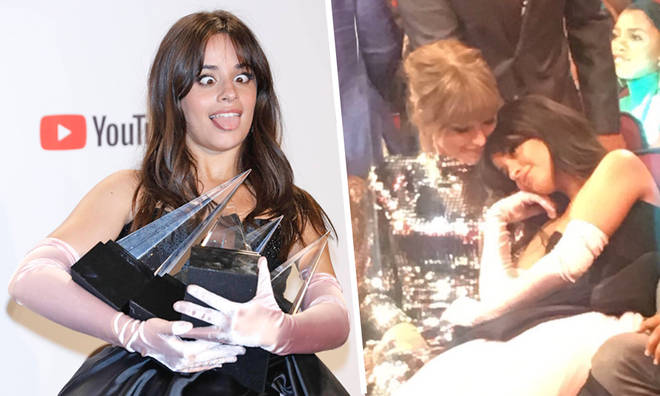 Camila Cabello won four awards at the 2018 American Music Awards recently, but did you spot Camila and Taylor Swift cuddling up off camera?
Camila Cabello won her first ever American Music Awards as a solo artist in 2018 and she couldn't have been happier, but there were plenty of Camila moments viewers will have missed that kinda stole the show...
1. Camila Cabello's reaction when Taylor Swift won an AMA
They've just finished touring together but their friendship is not over as Camila and Taylor proved a number of times during the AMAs. Camila's reaction when Taylor became the most successful female in AMAs history by winning 'Tour Of The Year' is absolute #FriendshipGoals.
2. Camila's infectious dancing during the show
Whether she was watching her good friend Shawn Mendes perform or any of the other artists who took to the stage, Camila's dance moves were on point all night long - and we're so grateful.
3. Camila's plus one to the AMAs was her dad!
Ahead of the ceremony and her incredible performance, Camila revealed that her dad was her plus one and shared some love for him on social media.
Camila's dad must've been so proud watching his daughter pick up four awards on the night too!
4. Camila and Taylor Swift cemented their status as BFFs
We know they're pals and that Taylor's nickname for Camila is 'Little C', but their affectionate display in the AMAs audience was the icing on the cake for any fans who can't get over this iconic friendship.
5. Taylor Swift booping Camila Cabello on the nose
Just when you thought there couldn't be any more cute goodness from these two, Taylor Swift went and booped Camila on the nose before Taylor went up to collect her award.
We just can't even deal with these two any more tbh.
6. Camila Cabello's friendship with Shawn Mendes was also on show
When Shawn jumped on stage to perform his 'Lost In Japan Remix' with Zedd, Camila jusgt couldn't keep still and had to show her support for her boy.
Camila and Shawn may not be working together any time soon, but Cam did throw some shaps during Shawn's lively performance, proving Taylor Swift is the 'Consequences' star's only BFF.
> Download Our Free App For All The Latest Camila Cabello News!