All The Love Island 2018 Contestant's Social Media Accounts: Instagram, Twitter And Snapchat
13 June 2018, 17:08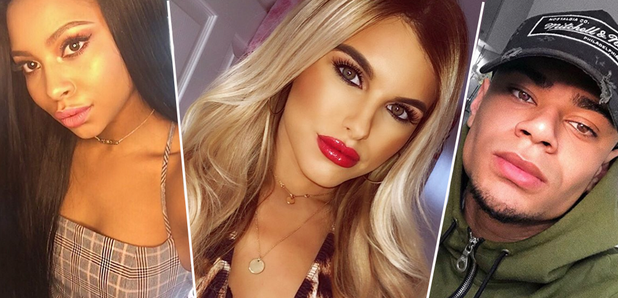 Dying to find out what Kendall is up to now? Or what muscle man Adam's Instagram looks like? We've round up all the Love Islander's social media accounts for you!
Love Island 2018 is in full swing, and everyone watching the contestants are finally getting to know them on a more personal level. So, what are they really like on the outside world? Their social media accounts are the best way to find this out, especially ones like Megan's that is getting A LOT of attention, so we've hunted down every islander's social media handles so you can start your stalking right now!
Josh Denzel Love Island 2018: From LADbible Job, Instagram And Ex-Girlfriends, Here's Everything You Need To Know
Dani Dyer
Already verified and with plenty of endorsements across her page- you can tell Dani is both the daughter of a celebrity and already had a shot at reality show fame from her earlier stint in Survival Of The Fittest, which was cut short when she dislocated her shoulder.
Samira Mighty
More than just your average triple threat- 26-year-old West End performer's snaps will give you serious life envy- she's got the fashion shots, next she's in costume ready to go on stage, now she's on Love Island, the jealousy!
Laura Anderson
The 29-year-old air hostess has openly admitted she's entered the villa to find a hubby, but with over 220k Instagram followers, it doesn't seem like she needs any help from the villa!
Instagram: @lauraanderson1x
Hayley Hughes
As you may already have guessed, Hayley's social media reflects just how glamorous she is in real life, full of professional make-up selfies and bikini snaps, if you haven't already found her, then here are her handles!
Instagram: @hayleyhughes.xx
Twitter: @hayleyhughes13
Georgia Steel
The 23-year-old barmaid and drama student's social media pages shows she's quite the party animal!
Instagram: @geesteelx
Twitter: @georgia_steel
Rosie Williams
The 26-yer-old lawyer quit her career to come into the villa and try to find love! For a lawyer, she lives a pretty glamorous lifestyle- designer gear, cars and sparkly dresses, it looks like she's already won the show?!
Instagram: @rosieawilliams
Megan Barton Hanson
The model sent the villa into a spiral when she entered- and from looking at her social media accounts, you get a better idea of why! She has some very racy photos from her photoshoots on them, and even featured in 66 magazine!
Instagram: meganbartonhanson_
Kendall-Rae Knight
Now she's out the house, everyone wants to know just what 26-year-old Kendall is going to be getting up to next. Although she hasn't admitted to any major plans- she even told us she would be willing to return to her job in a shoe shop- she's bound to be flooded with offers and deals, fancy keeping up with what's going on?
Instagram: @kendallraeknight
Twitter: @_KendallRKnight
Snapchat: kendallknightx
Dr. Alex George
A&E doctor Alex has done his job dirty by breaking the hearts of the nation (medical pun, enjoy it) as no one coupled up with him and he flounders out there in the battlefield of love trying to win Megan's heart from Eyal. The answer to everyones question, whats Alex like outside the villa?
Instagram: @adlgeorge1
Wes
Baby of the villa, 20-year-old Wes already boasts a whopping 230k Instagram followers and, as we can tell from his ripped body, is quite the gym bunny- boasting of doing a 'quick 3 mile run' followed by '15 minutes of skipping to cool down' and honestly, we're worn out just from reading it.
Jack Fincham
It's pen salesman Jack! Literally everyone wants to know a bit more about what 26-year-old Jack gets up to, uh, probably outside the office, ever since he charmed his way onto our screens. Surprisingly, he doesn't actually take that many selfies!
Instagram: @jack_charlesf
Twitter: @Jack_CharlesF
Adam Collard
The 22-year-old Geordie lad took the house by storm when he sauntered in, in Niall's words "looking like a Greek God or something". So, what can you expect from the personal trainer's social media?
Well, you may be sad to know he is already verified with over 262k followers, and yes, there are PLENTY of ab/muscle/general adonis body snaps, as well as- oh, wait, no that's pretty much it.
Eyal
The 22-year-old former pop star and model knows how to work the camera and his page is full of smouldering selfies, take a look for yourself on his Instagram page.
Instagram: @EyalBooker
Charlie Frederick
Charlie 'No Eyebrows' Frederick is also a model, and knows Eyal through the industry, so you guessed correctly if you thought his social media is full of smouldering model snaps and rippling gym selfies.
Instagram: @charliefrederick
Josh Denzel
20-year-old LADbible presenter is already living it up, according to his social media page, with him partying at luxury hotels and posing for selfies with A listers. Warning! His page will make you want to book a holiday!
Instagram: @wes.nelson
Twitter: @WesLNelson
Niall Aslam
Unfortunately the 23-year-old had to leave the villa suddenly for 'personal reasons' which are yet to be revealed, but the good news is you can now keep up with everything he's up to via his Instagram page!
Instagram: @niallaslam
Twitter: @niallaslam
Download Our Fancy New App For All The Latest Love Island News