Sigma - 'Coming Home' (Live At The Jingle Bell Ball 2016)
5 December 2016, 10:39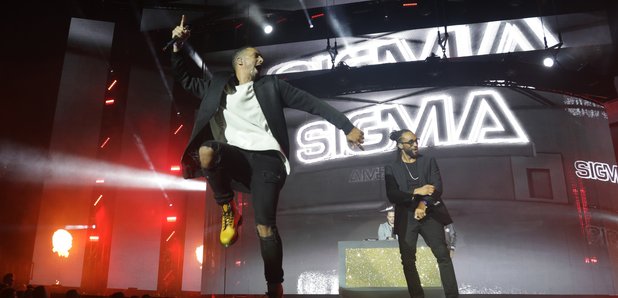 If there was going to be an act across the weekend who would get the ground shaking it was going to be Sigma – and that's exactly what they did.
The stage at Capital's Jingle Bell Ball with Coca Cola looked incredible and it made the perfect platform for Sigma to unleash their breed of Drum & Bass anthems.
Getting the crowd pumped as soon as they stepped out on to London's iconic O2 Arena stage, Sigma turned the velocity up to 11 and powered through a set like huge chart hits that have made them household names.
2016 has been an amazing year for the duo – having worked with the likes of Birdy and Take That, this Drum & Bass duo have proved that they're undoubtedly a force to be reckoned with.
You can relive his amazing #CapitalJBB set by clicking play on the video below – you definitely don't wanna miss this one!
As well as 'Coming Home', Sigma performed a number of his other huge hits, showing why they're the Drum & Bass kings right now.
Sigma– Jingle Bell Ball 2016 Setlist
'Nobody To Love'
'Coming Home'
'Glitterball'
'Find Me (feat Birdy)'
'Changing'
Sigma 'Coming Home' Lyrics
Know I'll never find it on my own
'Cause this life ain't leading nowhere I can go
I'm standing still with nothing in my way
Letting me go so I can find myself again

I need that
Ground beneath my feet to feel that
Ground beneath my feet
I need that
Ground beneath my feet to feel that
Ground beneath my feet
I need that

I need that home, I'm coming home, I'm coming home
'Cause this life that I've been living ain't my own
Home, I'm coming home, I'm coming home
'Cause I'm tired of being out here on my own
I'm coming home, oh yeah yeah yeah
I'm coming home, oh yeah
And all of this time I've been living it up
And all I've got left is rubble and dust
Oh oh, I'm coming home

I know if I can find my own way back
There's a life I always knew but never had
I'm tired of fighting things that I can't change
Letting me go so I can finally find my place

I need that
Ground beneath my feet to feel that
Ground beneath my feet
I need that
Ground beneath my feet to feel that
Ground beneath my feet
I need that
Ground beneath my feet to feel that
Ground beneath my feet
I need that
Ground beneath my feet to feel that
Ground beneath my feet
I need that

I need that home, I'm coming home, I'm coming home
'Cause this life that I've been living ain't my own
Home, I'm coming home, I'm coming home
'Cause I'm tired of being out here on my own
I'm coming home, oh yeah yeah yeah
I'm coming home, oh yeah
And all of this time I've been living it up
And all I've got left is rubble and dust
Oh oh, I'm coming home