Sigma - 'Changing' (Live At The Jingle Bell Ball 2016)
4 December 2016, 22:18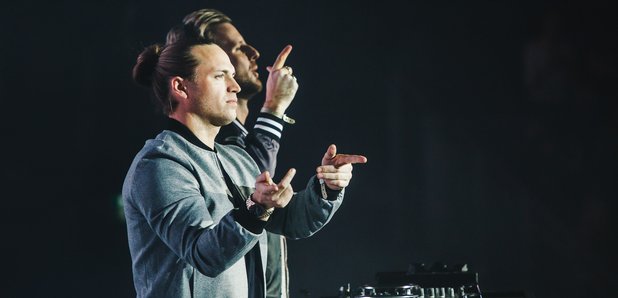 Their songs have been heard lighting up shows, parties and festivals across the country – so you can imagine how great their #CapitalJBB set was!
When the atmosphere at Capital's Jingle Bell Ball with Coca Cola is as hyped as it was for Sigma's set, there's nothing you can do but just ride the wave of amazingness.
Their recent chart hits have been dominating clubs and shows everywhere for the last couple of years and 2016 was no different. The crowd at London's O2 Arena partied to this duo's tunes like never before and made sure they had a #CapiitalJBB to remember.
Sigma's debut album 'Life' was a standout effort when it was released back in 2015 and they've continued that success into 2016. Having worked with the likes of Rita Ora, Ella Henderson and Paloma Faith, they've already racked up some amazing collabs and we're sure many more people will be on the phone to them after this incredible set.
You can relive their amazing #CapitalJBB set by clicking play on the video below – it was an absolute explosion of hype!
As well as 'Changing', Sigma performed a number of their other massive hits, showing why they've got the charts in the palm of their hands right now.
Sigma– Jingle Bell Ball 2016 Setlist
'Nobody To Love'
'Coming Home'
'Glitterball'
'Find Me (feat Birdy)'
'Changing'
Sigma 'Changing' Lyrics
Hell down, heaven down
Livin' in the same town
Tryna find something new
Broken picture frame
I've been frozen in
Tryna find a better view
This ain't real, this ain't cool
This ain't what I signed up to
This ain't right, it's no good
No good, oh
Everything is changing,
And I've been here for too long
Going through the same things
I've been hurting too long,
Got to move on
Say I-I-I-I can't do this anymore
If everything is changing
And I know, yeah, you gotta let go
Ooh oh oh oh
Ooh oh oh oh
Ooh oh oh oh
Gotta let go
Ooh oh oh oh
Ooh oh oh oh
Ooh oh oh oh
Gotta let go
I don't understand playing by the same hand
How you find something new
I can't work it out what it's all about
I won't live my life through you
This ain't real, this ain't true
This ain't what I signed up to
This ain't right, it's no good
No good, oh
Everything is changing
And I've been here for too long
Going through the same things
I've been hurting too long,
Got to move on
Say I-I-I-I-I can't do this anymore
If everything is changing,
And I know, yeah, you gotta let go
Ooh oh oh oh
Ooh oh oh oh
Ooh oh oh oh
Gotta let go
Ooh oh oh oh
Ooh oh oh oh
Ooh oh oh oh
Gotta let go
I've been here for too long
I've been here for too long
I've been here for too long
I've been here for too long
I've been here for too long
I've been here for too long
I've been here for too long
Everything is changing