Sigma feat. Birdy - 'Find Me' (Live At The Jingle Bell Ball 2016)
4 December 2016, 22:23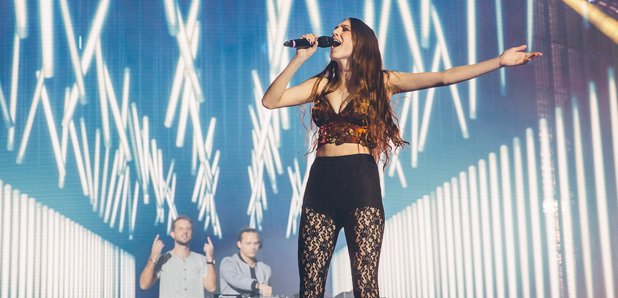 They've created one of the biggest collabs of 2016 and their performance at the #CapitalJBB was definitely one to remember!
When Capital's Jingle Bell Ball with Coca Cola features so many amazing artists, you've gotta do something to stand out – so Sigma decided to bring out their recent collaborator and epic vocalist Birdy!
Their recent chart hit captured the imagination of the crowd at London's O2 Arena and provided one of the most magical moments of the entire weekend – prepare for all the feels when Birdy nails those vocals.
Dressed to impress, Birdy was a bright light on the stage and backed up by the always impressive duo, this performance was a #CapitalJBB moment to remember.
You can relive their amazing #CapitalJBB set by clicking play on the video below – it honestly was an incredible live show!
As well as 'Find Me', Sigma performed a number of their other massive hits, showing why they've got the charts wrapped up right now.
Sigma– Jingle Bell Ball 2016 Setlist
'Nobody To Love'
'Coming Home'
'Glitterball'
'Find Me (feat Birdy)'
'Changing'
Sigma 'Find Me' Lyrics
We said goodbye, that's what you told me once
So many times we've made our peace
But this is love, I'll never give you up
I know your love has come home to me

Like a river, always running
I keep losing you
Like a fire, always burning
I'll be here for you

If you're ready, heart is open
I'll be waiting, come find me
If you're certain for forever
I'll be waiting, come find me

I see you, you're in the darkness
Blinding light right where your heart is
If you're ready, heart is open
I'll be waiting, come find me

Come find me
Come find me

I see you, you're in the darkness
Blinding light right where your heart is
If you're ready, heart is open
I'll be waiting, come find me

We've lost our way , that's what you told me once
But tears they come and go
This is us, I'll never get enough
It's taking losing you to know

If you're ready, heart is open
I'll be waiting, come find me
If you're certain for forever
I'll be waiting, come find me

I see you, you're in the darkness
Blinding light right where your heart is
If you're ready (if you're ready)
Heart is open (heart is open)
I'll be waiting, come find me

Come find me
Come find me

Run
Run to me and never leave me now
Run
Run to me and never leave me now

I see you, you're in the darkness
Blinding light right where your heart is
If you're ready, heart is open
I'll be waiting, come find me

Come find me

If you're ready (if you're ready)
Heart is open (heart is open)
I'll be waiting, come find me

If you're ready, heart is open
I'll be waiting, come find me