Sigma -'Glitterball' (Live At The Jingle Bell Ball 2016)
5 December 2016, 12:11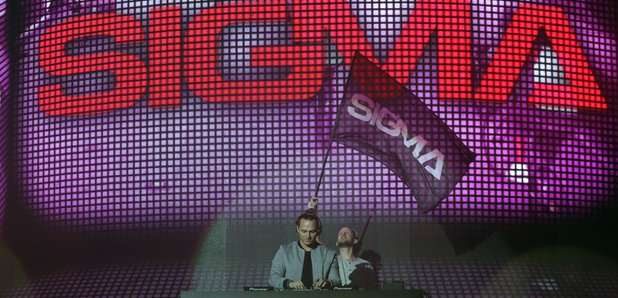 When upbeat anthems and breakbeat brilliance combines, it sets the #CapitalJBB off perfectly – so thanks for that Sigma!
The atmosphere was electric at Capital's Jingle Bell Ball with Coca Cola, so you can imagine the roar when DJ/Producer duo Sigma made their way on to London's O2 Arena stage.
Having topped the UK charts on several occasions, this duo knows exactly how to get a party started and that's exactly what they did – with added swag due to their pretty on point outfit choices too.
With the speakers at London's O2 Arena turned right up to the max, the only option for the crowd was to get up and dance and that's exactly what they did – making the biggest Christmas part in the UK even more amazing than we imagined it could be.
You can relive their amazing #CapitalJBB set by clicking play on the video below – just make sure you're prepared to party!
As well as 'Glitterball', Sigma performed a number of their other massive hits, showing why they've dominated the charts in recent years.
Sigma– Jingle Bell Ball 2016 Setlist
'Nobody To Love'
'Coming Home'
'Glitterball'
'Find Me (feat Birdy)'
'Changing'
Sigma 'Glitterball' Lyrics
Standing here in the music hall
With my microphone and a glitterball
And you walked right in, blowing through the doors
Like a force of nature, a force of nature
I cannot go, 'cause my head's a mess
But you're beautiful in the way you dress
I'm lost for words and I'm powerless
Right from the beginning
You got me singing ooh
Singing ooh
Singing ooh
Singing, oh
I'm so in love with you
Singing, ooh
Singing, ooh
Singing oh
I'm so in love with you
I'm so in love with you
I thought I lost you in the crowd
But I came up where you stand out
You're like the storm through the evening rage
The bells are ringing
You got me singing ooh
Singing ooh
Singing ooh
Singing, oh
I'm so in love with you
Singing, ooh
Singing, ooh
Singing oh
I'm so in love with you
And I feel love
Do you feel love?
And I feel love
I won't cut ice for you, for you
Just look and see it's true, it's true
So tell me what to do, to do
Don't wait too long
I cannot go, 'cause my head's a mess
But you're beautiful, in the way you dress
I'm lost for words, and I'm powerless
Right from the beginning
You got me singing ooh
Singing ooh
Singing ooh
Singing, oh
I'm so in love with you oh
Oh, I'm so in love
I'm so in love with you
And I feel love
Do you feel love?
And I feel love
And I feel love
Do you feel love?
And I feel love