Clean Bandit Brought Louisa Johnson, Sean Paul & Anne-Marie To Their Hit Filled Summertime Ball Set!
10 June 2017, 19:56 | Updated: 12 June 2017, 10:49
Why have one surprise guest, when you can have THREE?!
As well as being certified hit-machines, Clean Bandit know how to put on a live performance - and they stunned the crowds at Capital's Summertime Ball with Vodafone by bringing out not one but THREE surprise guests to join them for their set.
Clean Bandit were joined by Louisa Johnson for 'Tears' and brought out Sean Paul and Anne-Marie for their number one smash, 'Rockabye' too - now that's what you call a treat!
Clean Bandit were excited to take to Wembley Stadium's legendary stage and perform for all 80,000 of you hit music fans, tweeting:
Loved seeing you again @zaralarsson at @wild_life_fest - today we're off to @CapitalOfficial's #CapitalSTB it's going to be pic.twitter.com/j4x7Swya3r

— Clean Bandit (@cleanbandit) June 10, 2017
Clean Bandit are no strangers to the number one spot, and brought five chart topping hits to their set in the sunshine - now you know the UK's biggest summer party is really under way!
They even made time in their set to sing their drummer Happy Birthday - and just look at his adorable reaction to 80,000 of you singing to him!
tfw the whole of Wembley Stadium sings you Happy Birthday
Have a good one, @cleanbandit's Luke! #CapitalSTBhttps://t.co/LanpivGe7K pic.twitter.com/0SoQAGZTzZ

— Capital (@CapitalOfficial) June 10, 2017
The band posed up in all-black outfits on the red carpet, before Grace changed into a white frilly trouser/top combo for their turn on the stage.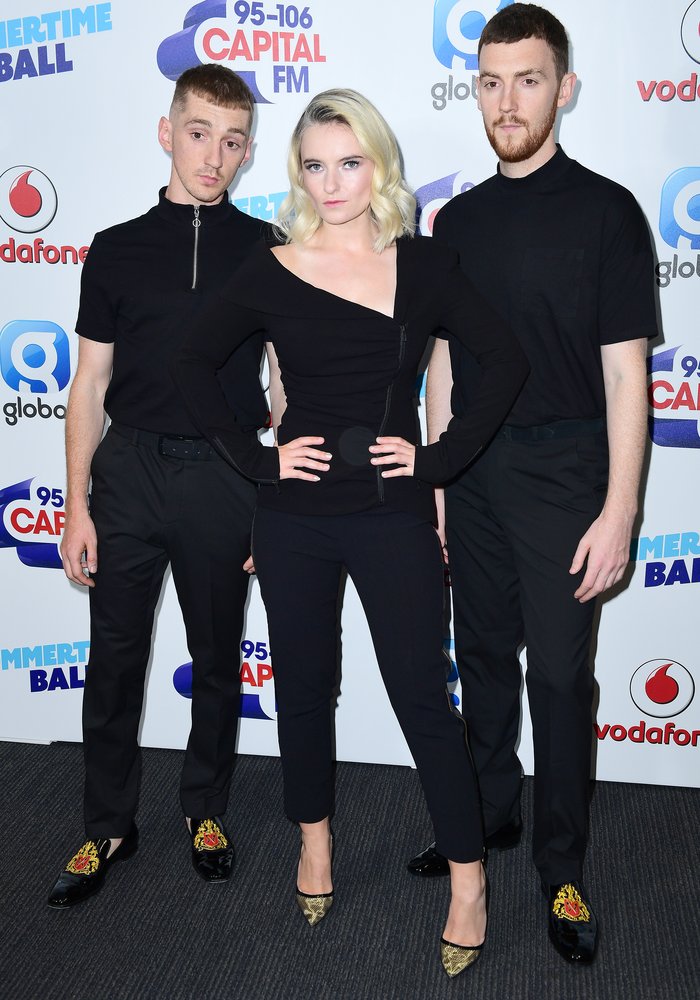 Clean Bandit – Summertime Ball 2017 Setlist
Rather Be
Tears (feat. Louisa Johnson)
Real Love
Symphony
Rockabye (feat. Sean Paul & Anne-Marie)
Clean Bandit's fans were out in force today at Capital's Summertime Ball with Vodafone - and they took to Twitter to rave about how amazing their set had been:
Found my new favourite band @cleanbandit - cracking set of songs at @CapitalOfficial #CapitalSTB

— Jon Salinger (@jonsalinger1973) June 10, 2017
Am I the only thinks EVERY SINGLE @cleanbandit song is a Absolute BANGER!!! #CapitalSTB

— Jochebel O Maccarthy (@Jojoprays4u) June 10, 2017
SEAN PAUL AND ANNE MARIE ARE BOTH ON STAGE WITH CLEAN BANDIT SOMEONE HOLD ME #CapitalSTB pic.twitter.com/qWTH1dRwnJ

— ˗ˏˋ niki ˊˎ˗ (@NikiAlbon) June 10, 2017
.@AnneMarieIAm @cleanbandit & @duttypaul on stage at @Capitalofficial #CapitalSTB was the best thing EVER! @CapitalScotland pic.twitter.com/zrsoM37SXy

— Chloe Davidson (@chloedave) June 10, 2017
Gotta love Clean Bandit!! @CapitalOfficial #STBStage

— Maddie (@xmaddieleex) June 10, 2017
Yep, that's how you do your #CapitalSTB set in style!