Clean Bandit - 'Real Love' (Live At The Summertime Ball 2017)
11 June 2017, 18:45
It was love at first sight when Clean Bandit took to the stage for a brilliant performance of their huge hit 'Real Love'!
When you get a winning formula, you don't change things, right? Well after Clean Bandit hit the top of the charts whilst working with vocalist Jess Glynne, they followed that advice and it worked absolute wonders.
'Real Love' was the follow up to Clean Bandit's first Jess Glynne collaboration 'Rather Be' and it was once again a massive hit for the group! Grace, Jack and Luke who make up Clean Bandit know how to write one heck of a pop song and just how to perform one too.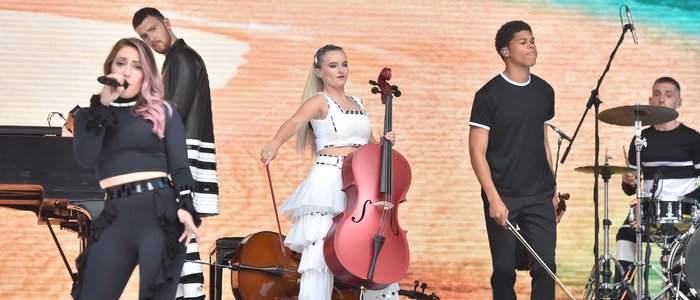 Getting the crowd partying from the word go, Clean Bandit owned the Wembley stage and made sure their second #CapitalSTB appearance was one to remember for all the fans inside the place!
Weren't lucky enough to attend the ball? Never fear - you can catch up with Clean Bandit's superb set by watching the video above. It'll be real love at first sight, trust us!
Clean Bandit – Summertime Ball 2017 Setlist
Rather Be
Tears (feat. Louisa Johnson)
Real Love
Symphony
Rockabye (feat. Sean Paul & Anne-Marie)
Clean Bandit 'Real Love' Lyrics
Oh, you've got the feeling that I wanna feel
Oh, you've got the feeling that I know is real, real, real
Oh, you've got the feeling that I wanna feel
Oh, you've got the feeling that I know is real, real, real
Oh, you've got the feeling that I wanna feel
Oh, you've got the feeling that I know is real, real, real
It's in the way you look, it's in the way you love
And I can see that this is real
It's in the way you talk, it's in the way you touch
And I can see
This is real, real, real, real love
This is real, real, real, real love
You give me that feeling, you give me that feeling
You give me that, you give me real love
You give me that feeling, you give me that feeling
You give me that, you give me real love
Oh, before you I was searching for a rarity
Oh, you showed me things I've never thought that I would see
It's in the way you look, it's in the way you love
And I can see that this is real, real
It's in the way you talk, it's in the way you touch
And I can see
This is real, real, real, real love
This is real, real, real, real love
This is real, real, real, real love
This is real, real, real, real love
Time won't waste, and we just learn
To take it slow and wait our turn
Held my breath, 'cause I believe
That you'll find me
You give me that love, real love
You give me that love, real love
You give me that love, real love
You give me that feeling
You give me that love, real love
You give me that love, real love
You give me that love, real love
You give me that feeling
Feeling
You give me that feeling