Bella Thorne Has Slammed Charlie Puth For Making Her "Look Like A Cheater And A W***e"
13 April 2017, 12:21 | Updated: 4 December 2018, 16:49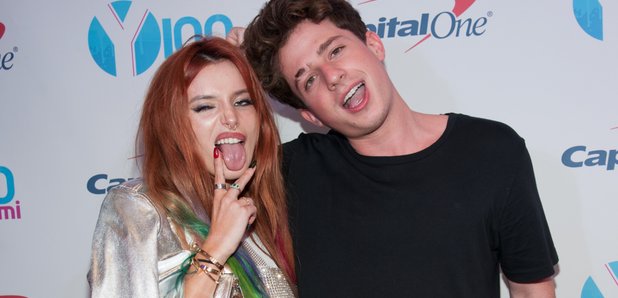 It's all kicking off again.
Bella Thorne isn't one to let things lie and when we read all those tweets from her rumoured ex Charlie Puth a couple of months ago, we knew that she wasn't going to stand for it.
First came the indirect (see also: quite obvious who they were directed at) tweets, swiftly followed by the shade during interviews.
Bella has been properly single since last November after breaking up with Teen Wolf star Tyler Posey. In December, she was spotted 'hanging out' with singer Charlie Puth and by 'hanging out', she means kissing on the beach. Obviously.
During her time with Charlie, an old article about her and Tyler resurfaced which then made Charlie think that Bella was seeing Tyler at the same time. Hence the stories began whirring that she was two-timing the boys.
"Charlie thought I was spending the holiday with Tyler and he tweeted all this s**t making me look like a cheater and a w***e. I had to basically bang down his door, calling him like 'what the f**k are these tweets?", she explained in a new interview.
Charlie may have apologised in the days that followed, but for Bella it was too late. Social media had latched onto the tweets that Charlie had sent and Bella's Twitter feed became bogged down with death threats and snake emojis.
"I almost changed my bio to the snake emoji when it first happened because I thought it'd be funny. Can you imagine two million people saying they don't like something about you?", Bella went on to explain.
Bella attempted to just let things blow over, but the more she thought about it, the more it annoyed her. "This guy is publicly slandering my name and making me seem like I'm a w***e. I'm a woman, I have the right to date around. If I want to go out with you I can, and if I don't, I'm not going to. You can't just do that to people", she went on.
Safe to say, Bella did not hold back in making her thoughts on Charlie's actions clear.
You May Also Like...