What Is Anne-Marie's Album Release Date? Everything You Need To Know About 'Speak Your Mind'
13 March 2018, 12:11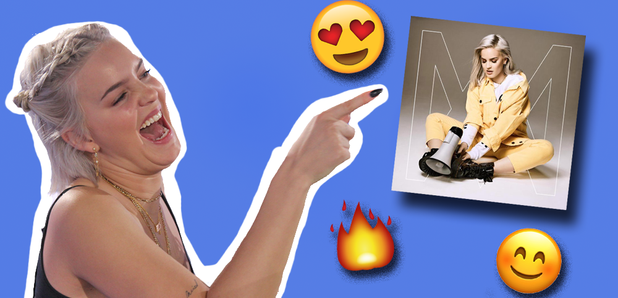 With her debut album 'Speak Your Mind' out this year, Anne-Marie has been taking over the charts with her brand of contemporary pop, so here's all the info you need to know about her upcoming release...
What Is The Release Date For Anne Marie's Debut Album 'Speak Your Mind'?
Anne-Marie took to Instagram back in February to reveal that her debut album 'Speak Your Mind' would be released on 27th April 2018. It's her debut album and acts as the follow-up to the 2015 EP 'Karate'.
Fans have been getting hyped about this release for a long time now and the fact tha it'll be with us in a matter of weeks has got us on the edge of our seats!
What Will 'Speak Your Mind' Sound Like?
Anne-Marie has released a host of hits across the last couple of years and there are a few singles which have already been released that feature on the album.
'Ciao Adios', 'Alarm' and 'FRIENDS' have all given us a taster of what to expect from the release and we also know that Anne-Marie co-wrote the song '2002' with Ed Sheeran too, so there's so much to look forward to.
It's also been revealed that Anne-Marie has worked with songwriters Emily Warren (Dua Lipa "New Rules") and Ina Wroldsen (Clean Bandit 'Symphony') on 'Speak Your Mind', so we can be sure there are some huge pop hits on the way!
In an interview with Billboard, Anne-Marie hinted at some dancefloor filling tunes on the album too, as she revealed her influence saying, "I actually have been really influenced by dance music. When I first started writing, I wrote really sad, emotional songs which were all slow."
"And it wasn't until I toured with Rudimental or did a song with Clean Bandit or more uptempo songs that I realized that I need something in my sets for my live shows otherwise I'm going to be singing the slowest sets in the whole world that everyone's going to be crying."
What Is The 'Speak Your Mind' Tracklist?
1. Cry
2. Ciao Adios
3. Alarm
4. Trigger
5. Then
6. Perfect
7. FRIENDS
8. Bad Girlfriend
9. Heavy
10. 2002
11. Can I Get Your Number
12. Machine
Deluxe edition:
13. Breathing Fire
14. Some People
15. Used to Love You
16. Track 16
17. Rockabye
What Is 'Speak Your Mind About'?
Explaining what fans can expect from the album, Anne-Marie told Billboard, "It's emotional, there's a lot of different subjects. The thing is, with me, I'm not just trying to talk about ex-boyfriends, although I'm quite good at that."
"I like to talk about everything, from body confidence issues to what's going on in the world right now. There's a lot of different vibes in there, and I hope that there's a song for every moment -- if you're going on a long car journey or getting ready to go out -- something for everyone."
What Is The 'Speak Your Mind' Artwork?
Anne-Marie revealed the official artwork for the album when she took to Twitter to share the pre order link.
The artwork sees Anne-Marie sitting on the ground with a megaphone in her hand, dressed in a pastel yellow outfit and looking like she's about to cause some serious trouble!
OMG my album SPEAK YOUR MIND is officially up for pre order on iTunes RIGHT NOW click the link https://t.co/ZyVE5oDxCI pic.twitter.com/rLzb8t4hpz

— ANNE♥MARIE (@AnneMarieIAm) February 23, 2018
Will Anne-Marie Be Going On Tour?
Once 'Speak Your Mind' is released, Anne-Marie will undoubtedly be performing the album at plenty of live shows around the country. She already has several live dates booked in March ahead of the album release, so watch this space on more being announced.
Fans will want to see Anne-Marie live ASAP and she'll be joining Ed Sheeran on tour this summer too, which includes four nights at Wembley Stadium!
> Download Our Fancy New App For All The Latest Anne-Marie Album News!
Whilst you're here, check out Anne-Marie's epic live version of 'FRIENDS' in our studio...