WATCH: Anne-Marie And Ed Sheeran Cover 'Ciao Adios' And Transform It Into An Acoustic Masterpiece
10 May 2017, 12:19 | Updated: 11 May 2017, 09:29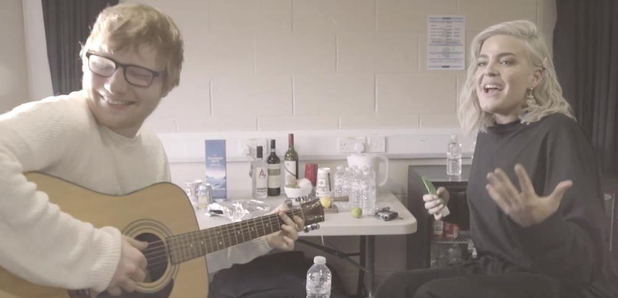 Just when you thought these two touring together couldn't get any better, THIS happens.
One sang 'Shape of You'. The other sang 'Alarm'. So when you get two musical geniuses together, in the same room, singing the same song, chances are it's going to be one of the best covers ever.
Having finished touring with Ed Sheeran on his European 'Divide Tour', the 26-year old singer uploaded a little session the duo recorded before they hit the stage.
With Ed on the guitar, the 'Rockabye' singer performs a chilled, dreamy rendition of her Vodafone Big Top 40's top five 'Ciao Adios' and (needless to say) we've found what we'll be listening to on repeat for some time.
This is just a perfect cover between two friends, who - when they're not recording incredible music together - are just uploading ridiculously hilarious snaps of one and other. Don't believe us? Scroll down just a little bit.
There you go.
If you can't get enough of this, like us, you'll be pleased to know that Anne-Marie's next single is set to be a collaboration with the 'Castle on the Hill' songwriter. Speaking of the upcoming song, Anne-Marie said "It's obviously just a good song because he is involved in it.
"When I went to do this song with him, that's when I just truly saw the genius." Ciao Adios... We're done.
Pic: YouTube
You May Also Like...