After Tweeting She Felt Low, Anne-Marie's Fans Came Together To Send Her Hundreds Of Messages Of Love
19 June 2018, 14:09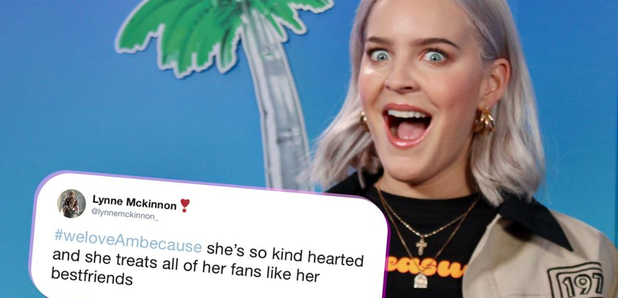 When Anne-Marie was feeling a little blue, she could count on her Ninjas to send her all of the love and support Twitter could handle...
Every time we've seen Anne-Marie, she's been a squealing, giggling ball of LOLs. Like, EVERY. SINGLE. TIME. But she is human after all, and she took to Twitter to tell her 391k followers that she was feeling a little sad.
The 'Alarm' hit maker wrote "Some days I just feel f***in low [sic]", and her loyal fans took it upon themselves to cheer her up.
> WATCH: Camila Cabello Joined Anne-Marie On Stage To Sing 'Rockabye' Together
Using the hashtag "#WeLoveAMBecause", many of her fans sent lengthy messages detailing why she was their favourite singer (and person) in the whole world.
From her incredible way she interacts with all of her fans - both online and face-to-face - to the way she doesn't really care how she looks; she's just game for a laugh, Anne-Marie was inundated with love.
#weloveAMbecause she is an inspiration of how we should love each other, no matter what they like or how they look like.

— Rafaela Ferreira (@RafaelaFerr22) June 18, 2018
#weloveAMbecause she makes me smile so much and she is the most gorgeous person ever. She stands up for what she believes in and i respect that so much pic.twitter.com/IARzwI6ewD

— charley (@badgirlfricnd) June 18, 2018
#weloveAmbecause she's so kind hearted and she treats all of her fans like her bestfriends, she'll be there for you no matter what and she'll use all her willpower to keep everyone happy and her smile is contagious. I love you @AnneMarie

— Lynne Mckinnon (@lynnemckinnon_) June 19, 2018
#weloveAmbecause she is amazing! she's so talented n such a lovely person. she's so gorgeous, she was amazing in march n i can't wait to see her twice in november! thanks to her i've made so many friends n i can't wait to hopefully meet her one day! love you @AnneMarie pic.twitter.com/DEMBcPsDRA

— zoe (@imzoeeeeeee) June 18, 2018
We'd start writing why we love Anne-Marie, but we don't have time to write every single reason. We'll just let this picture do the talking for us...
Anne-Marie did the one thing we've always wanted to do. *sighs*
> We've Got All Of The Anne-Marie Goodness You Could Possibly Want Over On Our App!