We Had No Idea How Much We Needed Little Mix's Gorgeous Cover Of Rihanna's 'Love On The Brain'
27 March 2017, 15:01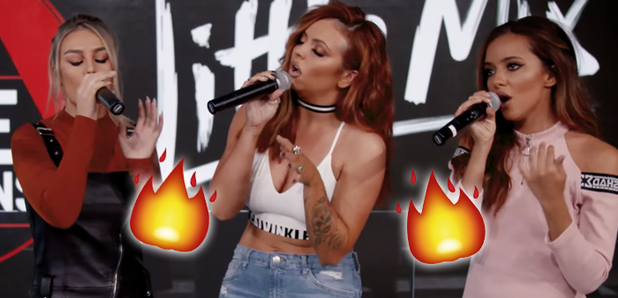 There are some dream covers that we could never have imagined would ever happen...but one just became a reality.
We've got a feeling these ladies have been practicing this one on the tourbus for a long time! Little Mix somehow turned Rihanna's 'Anti' anthem into a soulful slow jam where all four ladies showed off their stunning vocals.
The girls' harmonising was on a whole different level as they serenaded us with an acoustic guitarist in tow to keep things ticking over.
If you haven't heard the original, check it out below to fully appreciate how beautifully the girls have transformed the doo-wop track...
The #Mixers were in full force to show their appreciation for the gorgeous rendition of the tune too:
@LittleMix @rihanna @Vevo_UK @YouTube favourite cover pic.twitter.com/ICKc87aKn3

— b e c c a (@salute_sykes) March 27, 2017
@LittleMix @rihanna @Vevo_UK @YouTube It's so good. Vocals on point! The girls slay every time pic.twitter.com/3bbwFhXBSi

— Maxime (@_MendesMixer_) March 27, 2017
@LittleMix @rihanna @Vevo_UK @YouTube SLIGHTLY IN LOVE? Slightly is an understatement.. I'M LIKE FREAKING IN LOVE I love their covers pic.twitter.com/7Ab7zSe4Hg

— Britt (@TheDutchMixer) March 27, 2017
PIC: Little Mix/Vevo

You may also like...
Little Mix's 'Touch' Without Music Is The Funniest Thing Going!
Perrie's "meow" though...
02:41
Trending On Capital FM