Touch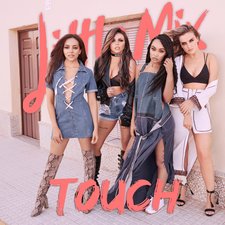 Prepare to get one hell of a girl power overload!
When it comes to a music video, the Little Mix girls don't do things by halves. And you can see that from their AMAZING new video for 'Touch'.
Opening with Leigh-Anne looking FLAWLESS, the video pans through the four of the girls with men wrapped around their little fingers, as they all bust some serious moves.
In the multicoloured video, Little Mix shimmy and grind with ALL the fierce sass, just like we're used to them doing during their live performances.
Don't even get us started on their suave AF moment when they're all just chillin' on chairs and the men are fighting for their affection. Standard Little Mix, really.
Jesy, Jade, Leigh-Anne and Perrie reunite for the final part of the song, having seemingly escaped the rainbow-coloured maze and bust out one hella dance routine that - we PROMISE - will get anyone begging for more!
From Jesy's mischievous glances to the camera, to Jade's powerful hair flicks; from Leigh-Anne's killer dance moves, to Perrie's super cool smouldering, the 'Touch' video is just 110% proof that Little Mix are QUEENS of whatever they do, because this is the best three minutes of 2017. Easily.
Little Mix - 'Touch' Lyrics:
You and I and nobody else
Feeling feelings I never felt
The way you got me under your spell
Don't you keep it all to yourself
So won't you take it, I feel like for the first time I am not faking
Fingers on my buttons and now you're playing
Master of anticipation
Don't you keep it all to yourself
Just a touch of your love is enough
To knock me off of my feet all week
Just a touch of your lo-ove
Just a touch of your lo-ove
Just a touch of your love is enough
To take control of my whole body
Just a touch of your lo-ove
Just a touch of your lo-ove
Just a touch of your love is enough
To knock me off of my feet all week
Just a touch of your lo-ove
Just a touch of your lo-ove
Just a touch of your love is enough
To take control of my whole body
Just a touch of your lo-ove
Just a touch of your lo-hey-ove
Photograph with no T-shirt on
Why you making me wait so long? (Wait so long)
I promise to keep this a secret, I'll never tell
But don't you keep it all to yourself
So won't you take it, I feel like for the first time I am not faking
Fingers on my buttons and now you're playing
Master of anticipation
Don't you keep it all to yourself (To yourself)
Just a touch of your love is enough
To knock me off of my feet all week
Just a touch of your lo-ove (Just a touch)
Just a touch of your lo-ove (Just a touch)
Just a touch of your love is enough
To take control of my whole body
Just a touch of your lo-ove (Just a touch, just a touch)
Just a touch of your lo-ove (Just a touch, just a touch)
Just a touch of your love is enough
To knock me off of my feet all week (knock me off my feet)
Just a touch of your love, hey
Just a touch of your love, hey
Just a touch of your love is enough
To take control of my whole body (body)
Just a touch of your love, hey
Just a touch of your lo-hey-ove
And now my whole week, my whole week is golden (yeah)
Can you see me glowing? That's how I feel (feel)
And I'm not afraid to fade into emotions (yeah)
'Cause I know that this could be something real (ooh)
Just a touch of your love is enough
To knock me off of my feet all week
Just a touch of your lo-ove (hey)
Just a touch of your lo-ove (just a touch)
Just a touch of your love is enough
To take control of my whole body (body)
Just a touch of your lo-ove (Only a touch of your love)
Just a touch of your love (Want a touch of your)
Just a touch of your love is enough
To knock me off of my feet all week
Just a touch of your love, hey (Just a touch)
Just a touch of your love, hey (Just a touch)
Just a touch of your love is enough
To take control of my whole body (oh yeah)
Just a touch of your love, hey
Just a touch of your lo-ove