People Are Only Just Realising That *Actual* Drake Was In Justin Bieber's Music Video For 'Baby'
14 April 2016, 16:28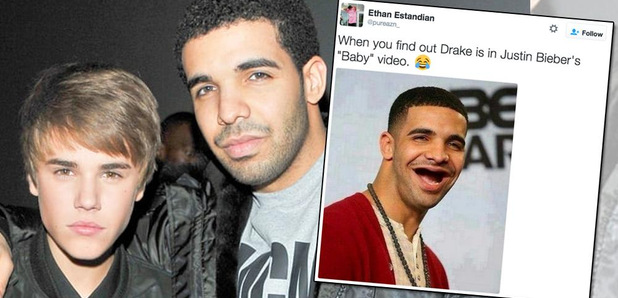 Over six years old, Justin Bieber's Baby is still such a guilty pleasure for a lot of us. We've sung/screamed along to it thousands of times and it's the ninth most watched video on YouTube, ever.

But after over a billion views how have so many of us missed a certain Canadian rapper's cameo?

Just incase you missed that, yes, it's *actual* Drake:

If you're sat there thinking, WTF?! DW, you're not the only one:
i just now realized drake was in the justin bieber baby music video

— ਲੀਆ (@LeahKathryn1) November 24, 2015
Nor are you the only one wondering why you've only JUST realised this:
Why am I only noticing now that Drake was in Justin Bieber's Baby video ..

— ☼ (@daniellestojkov) November 13, 2015
You're not the only person who can't quite believe it:
Is that Drake in Justin Bieber's "Baby" video?! pic.twitter.com/pLLuCorDi7

— Stacey Murillo (@Tety2131) April 8, 2016
People literally just didn't know:
Holy shit I didn't even know drake was in Justin Bieber's "Baby" music video till now

— . (@Sebastian_701) November 21, 2015
Same mate, same:
When you find out Drake is in Justin Bieber's "Baby" video. pic.twitter.com/0XpteD2ncY

— Ethan Estandian (@pureazn_) January 19, 2016
Now after you've had your moment of, 'OMG IS THAT BLOODY DRAKE?!' Next comes a very important question:
serious question why is drake in bieber's baby video...

— Rachel Mackay (@RachelMackay91) November 20, 2015
Could this be a possible explanation?
Wait, Drake is in the Baby video with Justin Bieber. Does Canada have like twelve people?

— Julian McCullough (@julezmac) November 18, 2015
It's also worth mentioning that Tinashe and Lil Twist also popped up at the bowling alley too.

So there we have it, the most disliked video on YouTube not only features Justin Bieber but Drake as well.
You May Also Like...