Years & Years – 'All For You' (Live At The Jingle Bell Ball 2018)
9 December 2018, 19:57 | Updated: 9 December 2018, 19:59
Years & Years didn't hold back with an incredible live performance of 'All For You' at the #CapitalJBB!
Years & Years' second album 'Palo Santo' was released earlier this year and it stormed the charts on its release, with 'All For You' being one of the standout tracks.
> Capital's Jingle Bell Ball 2018: How To Watch, Listen & Stream
Performing it live at the #CapitalJBB for the first time, the trio had the 16,000 strong crowd captivated from the very start and made sure the party was in full swing.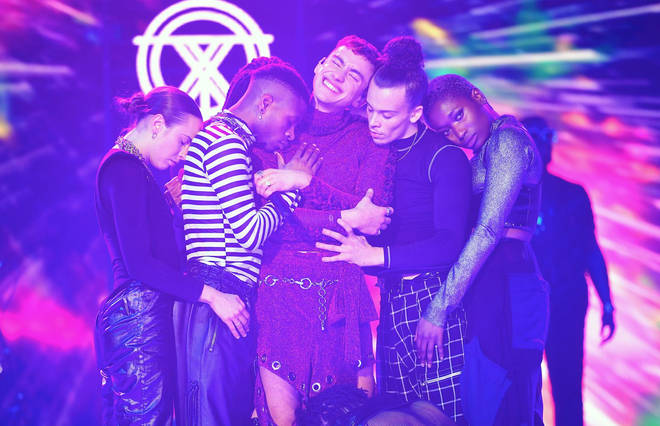 'All For You' is one of those dance tracks that you can't help but move to, which proved to be true when the audience at London's O2 started throwing plenty (sometimes questionable) shapes in the crowd.
Check out Years & Years' performance of 'All For You' via the video above and relive that #CapitalJBB magic…
Years & Years – Jingle Bell Ball 2018 Set List
'King'
'Desire'
'All For You'
'If You're Over Me'
'Shine'
Years & Years – 'All For You' Lyrics
I've been thinkin'
Was it all a different scene in my head?
Ooh
You've got powers
You instructed all the demons instead
Mmm
Ooh, everyone sees a man so tall, so perfect, they said
Yeah, you've got ambition
I thought we would grow in time, I wasn't prepared
And now, am I forgiven?
Oh
You look like you're so damn scared
I don't really think you care
You know, you know that our time is through
"It's over when I leave, " you said, "we're never gonna meet again"
You played your game, it was all for you
Ooh, ooh
Ooh
It's all for you
Is it always just a stand in for a man that can't heal?
Ooh
I've got arrows, am I shooting through the sky for us still
Na, na, na
And I have a spent a year, wondering if I had all of the blame
Ah, yeah (ah yeah)
And love's a bitter fruit if you choose to remain in your shame
But you couldn't listen, no
You look like you're so damn scared
I don't really think you care
You know, you know that our time is through
"It's over when I leave, " you said, "we're never gonna meet again"
You played your game, it was all for you
Ooh, ooh
Ooh
It's all for you
Ooh, ooh
Ooh
It's all for you
Kneeling at your temple, love was accidental
Singing bruises, I was foolish
Thinking I was careful, losing every battle
Singing bruises, I was foolish
No hands, no rush
No touch, no drug
No blood, no love
I'm doing it all for you
No hands, no rush
No touch, no drug
No blood, no love
I'm doing it all for you
You look like you're so damn scared
I don't really think you care (don't care)
You know, you know that our time is through (you know that our time is)
"It's over when I leave, " you said, "we're never gonna meet again"
You played your game, it was all for you
I said, "so long", I said, "so long"
I said, "so long", it's all for you
I said, "so long", I said, "so long"
I said, "so long", it's all for you
> Download Our Free App For All The Latest #CapitalJBB News