Capital Network: Capital Up Close With Coca Cola Presents Ed Sheeran
13 June 2017, 08:10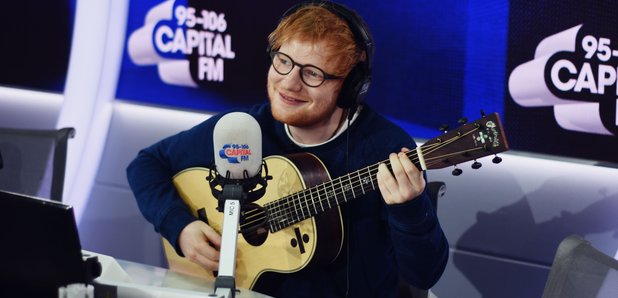 Full terms and conditions.
1. The following rules ("Specific Rules") together with the general competition terms and conditions (which can be found at www.capitalfm.com/terms-conditions) (the "Competition Terms and Conditions") of Global (as defined in the Competition Terms and Conditions apply to 'Capital Up Close with Coca Cola presents Ed Sheeran' radio competition (the "Competition") which will run from Wednesday 14th June to Tuesday 20th June across the Capital Network (the "Radio Station").
2. Anyone who enters the Competition (an "Entrant") will be deemed to have read and accepted the Specific Rules and the Competition Terms and Conditions and will be bound by them.
Details of the Competition:
3. To enter the Competition an Entrant must send a text message with the keyword given on air and their answer to 83958 (the "Text Message Line") within the entry window outlined. Text messages will be charged at £1.00 plus your standard network rates.
4. The opening and closing times of the Text Message Line will be given out on air. If listeners text before or after the outlined entry window, they will not be entered but may still be charged. Global Radio is not responsible for any latency experienced by your mobile phone network, which may delay the delivery of your text message to us.
5. Once the text lines have closed, two finalists will be selected at random from all the correct entries and called back to answer a general knowledge question asked by the on air presenter(s). The listener who is nearest to the correct answer will win the prize. If both listeners give the same answer, or give an answer that is equally above or below the answer, another question will be asked. The producer's decision is final. The winner be given the option to claim all of the prize, or split with the other finalist. A call will be recorded with the winner and played out on air.
6. All Entrants selected to play on air will be required to talk to the presenter(s) and the conversation may be recorded and played on-air. If the caller fails to answer a return call from Global, is driving at the time of the call and is unable to pull over, cannot continue the call for any reason or the phone line is not of a suitable quality for broadcast (at the discretion of the producer) the call may be terminated and another Entrant selected at random.
7. There will be a maximum of 15 competition rounds per day broadcast exclusively on the Capital Network and local sites each day. Capital reserves the right to broadcast additional competition rounds during network programming in certain areas across the United Kingdom. Competition rounds will be announced in advance by the presenter(s) on air. Capital reserves the right to take the game off air at times when programming output requires it.
Eligibility:
8. All entrants must be aged 18 or over.
9. Multiple entries are permitted. You can enter each round of the competition up to 3 times. We strongly advise against excessive use.
Prize:
10. The prize for competition rounds will be 4 tickets to see Ed Sheeran perform live at London's KOKO in Camden on Tuesday 20th June 2017– no alternative dates will be offered.
11. If the winner decides to 'divide' their prize with the 2nd finalist, both listeners will win 2 tickets to see Ed Sheeran perform live at London's KOKO in Camden on Tuesday 20th June 2017.
12. This prize does not include travel or accommodation.
13. The prize does not include insurance.
14. The prize is non-transferrable.
15. Global Radio reserves the right to change the prize or any part of it at any time.
16. All winners must adhere to the event venue terms, and door policy.
Event Information:
17. We (Global Radio Services Limited) are hosting an event at Koko, London (the Venue) on 20 June 2017 (the Event). If you are lucky enough to have a ticket for the Event, you should read these terms and conditions together with and any other statements which may be displayed at the Venue.
You must produce a valid ticket (and show photographic I.D) in order to gain entry to the Event.

All patrons must be 14 years of age or over & bring photographic I.D in order to gain entry to the Event. Anyone under 16 years of age must be accompanied by an adult, who is 18 years of age or over. Valid forms of photographic I.D include Passport, Drivers Licence and PASS scheme.
When purchasing alcohol if you appear to be under 25 you will be asked for proof of age. We apologise if this causes any embarrassment.

Smoking is not permitted in the Venue; this includes the use of e-cigarettes and offenders will be ejected without refund.

The Venue has zero tolerance policy in respect of illegal substances and we will refuse admission or eject patrons for any behaviour which breaches this policy and shall be entitled to take all reasonable measures to ensure compliance with the policy.

WARNING – patrons will be exposed to loud music at the Event and strobe lighting may be used.

For security reasons, we recommend that you only bring small handbags into the Venue and we reserve our right to refuse entry to those carrying large rucksacks, suitcases or other large bags. Searching is a condition of entry, refusal to allow a search to be conducted will result in non-entry to the Venue.

The doors for the Event open at 7.00pm. There will be no admission for the Event before the designated opening time. Late admission cannot always be guaranteed.

No pass-outs or readmissions, including for smoking.

We (together with the Venue) reserve the right to refuse admission should patrons breach any of these terms and conditions or those rules or regulations displayed at the Venue, or behave in a manner which is likely to cause damage, injury, nuisance or annoyance or for failure to comply with our or their reasonable requests.

Anyone throwing objects, including but not limited to alcohol, glasses, etc. will be removed from the Venue and no refund given. Furthermore, patron's details will be provided to the regulatory authorities should an offence be alleged to have taken place.

We are not liable for any tickets which are lost, stolen or damaged.

Our liability to you in connection with the Event (including, but not limited to, for any cancellation or rescheduling of the Event) shall be limited to the value of your ticket. Nothing in these terms and conditions seeks to exclude or limit our liability for death or personal injury caused by our negligence.

It is your responsibility to check that the Event is going ahead at the date and time. All advertised times are approximate and subject to change.

Tickets are strictly non-transferable. If you have a ticket and are unable to attend the Event, please contact Patrick.Neville@global.com so that we can reallocate it.

Any resale/transfer or attempted resale/transfer of your ticket will result in seizure or cancellation without compensation.
The unauthorised use of photographic and recording equipment is prohibited. Any videos or recordings may be destroyed or deleted.

You give your express consent to your actual or simulated likeness to be included within any film, photograph, video, audio and/or audio-visual recording at the Event and for such film, photograph, video, audio and/or audio-visual recording to be exploited in any and all media for any purpose at any time throughout the world. This includes filming by the police or security which may be carried out for the security of patrons.

Items that we, in our absolute discretion, consider may be a threat to health and safety are not permitted in the Venue.

We do not accept responsibility for the loss or damage of personal property brought into the Venue.
SP: Global Services Ltd, 30 WC2H 7LA. If you are having problems using our text entry service please have a look at our FAQs or alternatively contact our customer helpline on 03333 212196.