Council Discuss Cowes Floating Bridge Problems
9 January 2018, 07:25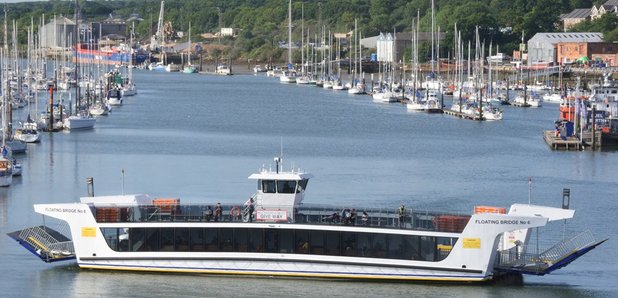 Isle of Wight Council's leader tells Capital the Cowes floating bridge should have a full, good service within a few months.
The council's Scrutiny Committee will discuss a report later, which found the new vessel had design flaws, and staff weren't given enough training.
The report - commissioned and presented by council leader, Councillor Dave Stewart - sought to explore questions regarding the £3.7 million project, including aspects of project management and governance, staff training and public engagement as well as well-publicised concerns over chain depths and noise.
It examines all the activity from the initiation of the project proposal in 2013, through to the present time. It recognises that no issues were identified with the new vessel until it went into service in May 2017.
Since the vessel was first brought into service in May 2017, in addition to the £3.7 million that it cost to build it, addressing the subsequent issues related to it have cost the council a further £832,000 to maintain the link across the river between East and West Cowes whilst the vessel was out of service, as well as causing a great deal of disruption to the lives of the local communities.
"For me, this review has been about examining what happened and learning lessons for the future. I wanted to know exactly why and how the problems that have been experienced with the floating bridge arose in the first place and if they could have been handled differently by the council on behalf of Island residents. Ultimately, I was asking the question 'why did we end up where we are?'" said council leader, Councillor Dave Stewart.
"This report is not about apportioning blame - it is about ensuring that when we have high value, high profile or complex technical projects in the future, we get them right. We absolutely owe this to all our council taxpayers and residents."
A number of technical design issues have been the subject of legal conversations between the council and contractors. These were not considered as part of this review process and are not detailed in the report for legal reasons.
The report also recognises that insufficient familiarisation and training time was allowed between the floating bridge arriving in Cowes and going into service and this may also have been a further contributing factor to the subsequent issues experienced.
The report makes a number of recommendations aimed at improving delivery of future capital projects as well as addressing findings regarding the current vessel.
Councillor Dave Stewart concluded:
"It is important to stress that following significant effort by many people Floating Bridge Number 6 has been running during December as part of an extended trial period. And we hope that as soon as all issues have been finally resolved we can once again return to a permanent service on this vital Cowes to East Cowes crossing."