Win Shark Dives At Blue Planet Aquarium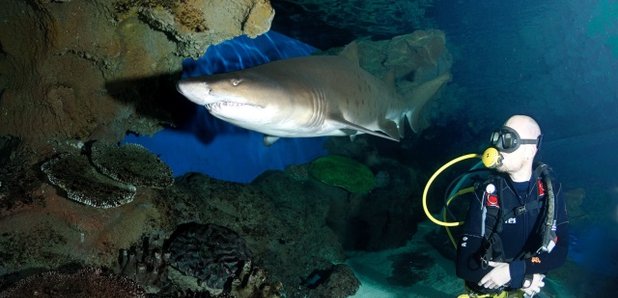 Yes, you read that right! We've got shark dives to be won at Blue Planet Aquarium. Warning: Only for the brave.
Celebs like Rihanna and Zac Efron have been up close and personal with sharks, and now you can! Dive in at the deep end at Blue Planet Aquarium, Cheshire Oaks.
There are more than a dozen different species of sharks and rays on display ranging from exotic guitar sharks to black tip reef sharks and bizarre-looking zebra sharks.
The display also contains some real giants of the deep in the shape of nurse sharks (max. length 4 metres), lemon sharks (max. length 3.4 metres), stingrays (max. width 2 metres) and, of course, the famous sand tiger sharks (max. length 3.2 metres).
So, fancy winning two shark dives?
All you have to do is listen to Ben Sheppard on Capital Breakfast and Faye Bamford on Drivetime on Friday 2nd December.
Ben who has actually dived with sharks at Blue Planet will be playing 'Big Fish Little Fish' for your chance to win two shark dives, plus a £50 shopping voucher - just in time for Christmas!
And Faye will be playing 'Something Fishy' to win two shark dives.
Get on-air competition terms & conditions here.
So tune in on Friday 2nd December when Blue Planet will be taking over!
Get the ultimate Christmas gift experience for thrill seekers in the shape of Blue Planet's jaw-esome shark scuba dives.
Blue Planet is the only aquarium in England to offer genuine shark scuba diving experiences - enabling absolute beginners to dive with three-metre-long sharks, stingrays and hundreds of amazing tropical marine fish.
In the run up to Christmas the aquarium is also offering more than 20% savings off their usual adult dive experience gift packages including their Shark Encounter for novice divers as well as their Shark Dive and Shark Awareness courses for qualified divers.
Dives start at just £175 for adults, plus youngsters from 8-15 years of age can also dive in to a winter wonderland of underwater adventure. Plus, for a limited period the aquarium has reduced the cost of their Junior Shark Encounter to just £95!
Blue Planet Aquarium also offers a variety of diving options for divers with disabilities. As an official PADI Dive Centre, Blue Planet Aquarium is able to provide the very highest levels of professional training and instruction; ensuring total novices are able to fully enjoy these unforgettable undersea encounters.
For more information and to purchase gift vouchers call 0151 357 8804 or visit www.blueplanetaquarium.com/diving-with-sharks
---
Blue Planet Aquarium
Cheshire Oaks
Cheshire
CH65 9LF

Tel: 0151 357 8804
Trending On Capital FM