Worries Brexit Could Lead To Rise In Homophobic Attacks
2 March 2017, 06:00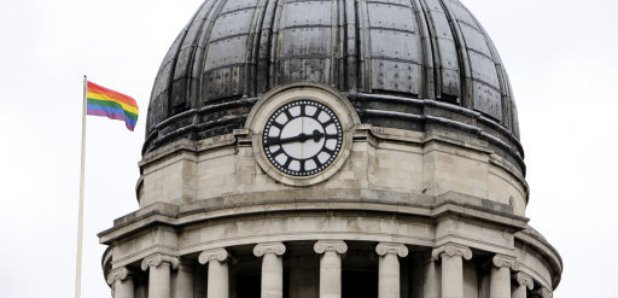 Campaigners in the East Midlands have told Capital they're concerned that leaving the EU and Donald Trump's Presidency could lead to a rise in attacks on gay, lesbian, bisexual and transsexual people.
It's 50 years since being gay was made legal in England and Wales, and LGBT support workers in both Leicester and Derby have told us the messages from politicians have almost given clearance to people to act upon hostile and negative attitudes and that they're concerned the clock could be being turned back.

Figures show 357 homophobic hate crimes were reported to police in Nottinghamshire, Leicestershire, Derbyshire and Lincolnshire in the year to November 2016, compared with 282 the year before.

It's a rise of around 26%, and some of the victims were aged as young as five.

Tori Banks from Leicester, was attacked in a bar five years ago when she lived life as a man named Russell. She said: "A gentleman came down to Leicester, whilst I was on a staff night out learning to make new cocktails. He came into the smoking area I was in and threw lighter fluid over me, and set me on fire.


"I remember every second of it. I remember being with my friends one minute, and then the next literally feeling on fire. It's how it sounds. Imagine tasting it, having it in your mouth, seeing it.

"I was left in a coma. It was my friends and family, and the kindness of strangers, that helped me move on.

"It's important to start tackling negative attitudes as early as possible. The main thing that people need to learn is that if it's not harming someone else, then there's no problem."

Greg Pickup, is a campaigner and support worker with Derbyshire LGBT+. He thinks what's happening with the UK's exit from the EU and the messages in America from Donald Trump's Presidency are having an affect.

"There's a continued need for organisations to continue to be an advocate for the LGBT community and the legislation and protections that we have. Because they are in danger, and I think there are very scary times to come," he said.

"It's exactly what we are seeing over in America. Equal marriage was only brought in very recently, but there is already a huge swathe of public opinion to try and get it reigned back."
Anti-bullying workers say school is the best place to start to root out the problem, and challenge negative stereotypes about the LGBT community.

However, although they do what they can at school, Caroline Harbison, who as a Development Officer at Leicestershire County Council's anti-bullying team goes into schools to deliver special assembies and sessions on stopping bullying, says social media and influences at home can make things difficult: "If that language is starting early and isn't challenged, then going into Primary schools to reinforce that that behaviour isn't acceptable is vital.

"Young people are spending more and more time online, and as much as parents are trying to stop that, they can't monitor everything their child is doing online. So it's so important that schools are doing that kind of proactive work and give positive reinforcements that say that language and behaviour isn't acceptable."
Capital's also been told the government is committed to working to reduce negative attitudes, and ensure the protection of the LGBT community's rights before and after Brexit.

Education Minister Justine Greening has been telling Capital it is so important to her: "I'm someone who is in a same sex relationship. We've made big steps forward over many years and we absolutely don't want to see that go in reverse. And what we need to do is continue to combat some of the issues that are still there.

"Part of it is education, part is helping young people to support themselves more effectively. Some of it is technology as well. We have been helping to fund an app so that children can report things that are going on to teachers.