Shawn Mendes: Everything You Need To Know About His Third Album
13 February 2018, 15:34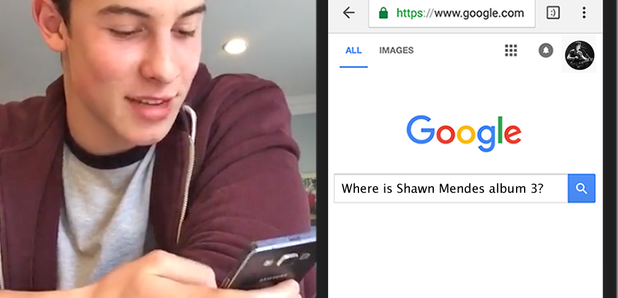 When is the release date? What is the tracklist? Here's everything we know so far...
Shawn Mendes' last album 'Illuminate' was released back in September 2016, so it's only right that we get another one pretty soon, right!?
The rumours about SM3 have gone into overdrive lately as Shawn's teased the upcoming release, so here's everything we know about it so far...
> This Is What Happens When A Fan Realises That Actual Shawn Mendes Is On Their Actual Damn Flight
When Is The Release Date?
No one knows an exact release date, but Shawn has confirmed that it'll be sooner rather than later. Speaking to Bandwagon about SM3, Shawn explained, "That's what I'm working on right now."
He went on to add, "I'm kind of just writing as many songs as I can write, and then there'll be a third album sooner than later. But I can't tell you much more about it."
Shawn also teased that the album would "soon come" with a topless photo.
What Will The Album Sound Like?
Give Shawn's musical background, we don't expect him to suddenly start rapping or throwing big electronic dance drops into his songs, so we're eagerly anticipating some powerful pop bangers with plenty of guitar from the main man.
Shawn teased us all when he tweeted 'Oh man, Album 3 vibe is starting to become very clear to me.', so now we just need to hear it please Shawn!
Oh man, Album 3 vibe is starting to become very clear to me.

— Shawn Mendes (@ShawnMendes) June 2, 2017
What Is The Tracklisting For Shawn's Third Album?
Considering that he hasn't released a single song from the project just yet, it's a little early to start tlaking tracklisting, however Shawn did tease what many fans believe is a lyric from one of the songs on the album recently.
Replying to a fan who asked him to tell the world something about SM3, Shawn replied with the very cryptic, "You're perfectly wrong for me, thats why its so hard to leave". WE NEED TO KNOW MORE ASAP!
"You're perfectly wrong for me, thats why its so hard to leave" https://t.co/oiBaIgbQTO

— Shawn Mendes (@ShawnMendes) February 4, 2018
Shawn also registered a song called 'Sure Of Myself' back in 2017, so could that be set to feature on SM3?
Shawn registered the song "Sure of Myself" on BMI along with SIA ! pic.twitter.com/oUnyAf0Fty

— Shawn Mendes Updates (@TheShawnUpdates) 15 October 2017
What Is The Album Artwork For SM3?
Back in October 2017 Shawn dropped one of the biggest hints about SM3 yet when he tweeted a picture alongside the simple words 'Album 3'. Could it end up being the album artwork or is it just somewhere Shawn has been writing songs for the release?
Album 3 pic.twitter.com/7PLvw8LjjD

— Shawn Mendes (@ShawnMendes) October 14, 2017
Is This The First Glimpse Of SM3?
Back at the end of 2017, Shawn shared a snippet from an unreleased song his Snapchat before quickly deleting it. Of course fans were quick to rip it and upload to Twitter, so could this be the first glimpse into what SM3 will sound like?
THE GOD DAMN LYRICS.!!! SM3 SM3 SM3@ShawnMendes VIA SNAPCHAT.
AND OFC *DELETED* pic.twitter.com/6jgRG3CFdN

— Shawn Mendes Updates (@MendesUpdate98) October 10, 2017
Will There Be Any Collabs On SM3?
We've seen Shawn work with the likes of Camila Cabello in the past and given the fact that Cam's cemented herself as one of the world's favourite artists right now, it wouldn't be a huge surprise if she made it onto SM3.
We've also seen Shawn perform with Niall Horan in the past and we would absolutely love to see those two on an SM3 track together! The one that's confused us the most though is KJ Apa.
Shawn previously revealed that he'd worked with the Riverdale actor on a 'project' but that he couldn't say too much about it. Speaking to the Jono, Ben and Sharyn Podcast, Shawn revealed,
"I love him. I did something with him, that I can't really talk about, because maybe it'll be something in the future. He's incredible and [the project] was before Riverdale started taking off, it was so cool to see all this stuff happen for him."
> Download Our Fancy New App For All The Latest News On SM3!
Whilst you're here, remind yourself just how good Shawn's performance of 'There's Nothing Holdin Me Back' was at the #CapitalSTB last summer...