Celebrity Sun Smoasters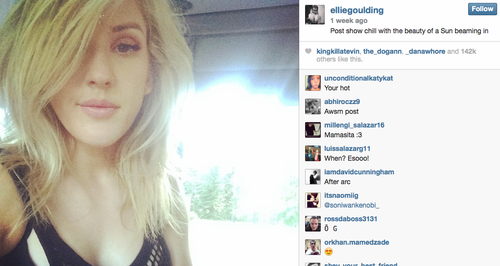 With the weather hotting up some people just can't stop tweeting about the glorious temperatures.
We've picked our best and worst celebrity offenders in the world of smoasters. What is a smoaster we hear you ask, a smoaster is a social boaster - the Kim Kardashians of the world who take to Twitter, Instagram, Facebook, Pinterest and every other social platform to shamelessly boast about their wonderful life - tut.
So with the sun shining and the weather hotting up we took a look online at just who we can name and shame as a smoaster over the recent heatwave to hit the UK.
Ellie Goulding
"Post show chill with the beauty of a Sun beaming in"
Jessie J
"10 min stroll before more press and promo #36degrees"
Union J
"On the way to YORKKKKK #TurnTheAirConOn #SunnyDay #concert"
Taylor Swift
"Hope you guys had a great weekend! Ours was suuuuper coastal."
Sam Smith
"Can't get over that sunset"
Nicole Scherzinger
"The sun is shining bright, what a stunning, glorious day in #London #YourLove #blessed"
Iggy Azalea
Proves true smoasters don't need words