Hundreds of Mourners Celebrate Life of Katie Rough
13 February 2017, 16:05 | Updated: 13 February 2017, 16:09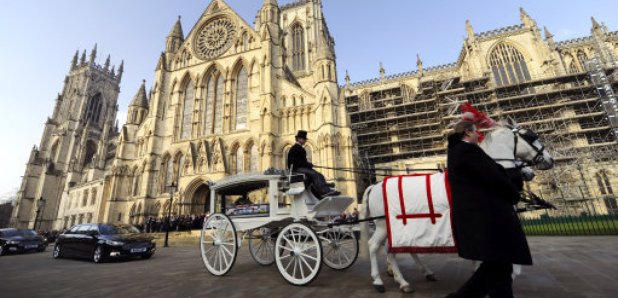 Hundreds of mourners have gathered in York Minster to celebrate the life of seven-year-old Katie Rough, who was killed in the city.
Katie was found with severe lacerations to her neck and chest on a playing field in York last month and died later in hospital.
Her funeral service was being led by the Archbishop of York, Dr John Sentamu.
Katie's coffin arrived at the South Transept of the Minster in a white hearse pulled by two white horses.
The white coffin was decorated with characters from Dr Seuss with multicoloured flowers laid on top.
The family, including parents Paul and Alison, were greeted by Dr Sentamu.
Friends and family packed into the Minster's Quire for the funeral service.
Mourners wore bright scarves and ties and a number of young children wore rainbow-coloured hair bows after they were asked by Katie's parents to dress formally but with a colourful twist.
The order of service carried a picture of Katie holding a toy rabbit on its front cover.
A message from the family thanked people for their support.
The note said: "Katie's family would like to express their thanks for all the love and support shown to them, for the generous donations and for being here today.
"The family have asked that the collection today be given in aid of Smira (Selective Mutism Information & Research Association).''
Following Katie's death, more than 1,300 people donated money to an online appeal for Katie's family, which raised more than #25,000.
Her parents have said a lasting memorial will be established for their daughter.
The congregation joined together to sing a number of Katie's favourite hymns, including The Calypso Carol, The Lord Is My Shepherd and He's Got The Whole World In His Hands.
Family members were tearful as they read passages from the Bible.
Katie's uncle, Steven Rough, gave an emotional tribute to his niece, who he described as a ``smart, fun, beautiful child''.
He said: "There's no easy way to say goodbye. We can't dwell in sadness or keep asking why when we may never know why this smart, fun, beautiful child was taken from our lives at such a young age.
"We should focus on how happy she made us when she was in our lives.''
Mr Rough's voice broke with emotion as he added: "We will miss Katie forever.
"We will never forget the wonderful person you were and your memories will live on forever in our hearts.''
Mr Rough said Katie suffered from selective mutism but said it did not stop her from having fun with her friends.
He described her love of the outdoors and reading, particularly poetry and Dr Seuss, and talked about her family's memories.
He said: "Her family were her world. She loved her mum and dad but she was definitely described as a daddy's girl.''
Dr Sentamu told the service that he sat with Katie's body overnight at his Bishopthorpe Palace residence so she would not be alone.
The Archbishop said the young girl was taken to the palace on Sunday for a family service.
He said he went to sit with her during the evening and spent 11 hours with her.
"I felt she's going to be alone in there,'' he said. "I found myself there from eight 'til seven in the morning.''
Dr Sentamu said she told him: "All is well, all is well with my soul, everything is OK.''
Katie's coffin was carried from the Minster to a second repetition of He's Got The Whole World In His Hands.
Her parents led the mourners from the service, wiping their eyes as they left to attend a private family service of committal.