Dua Lipa And Anwar Hadid Relationship Timeline: The Couple Can't Keep Their Hands Off Each Other At AMAs
25 November 2019, 17:06 | Updated: 25 November 2019, 17:16
Dua Lipa is dating Gigi and Bella Hadid's brother Anwar and they look so loved up.
Dua Lipa officially split from her long-term boyfriend Isaac Carew earlier this year following an on-off relationship. However, it looks like the singer has found love again with Anwar Hadid, the brother of supermodels Gigi and Bella Hadid.
Anwar, 20, and Dua, 24, kept their romance pretty low-key for the first few months but they're now sharing more of each other on social media and have been attending red carpet events together.
Here's everything we know about their relationship so far...
Dua Lipa Hits Back At Trolls Accusing Her Of Photoshopping Her Lips In Baby Photo
Dua and Anwar can't keep their hands off each other at American Music Awards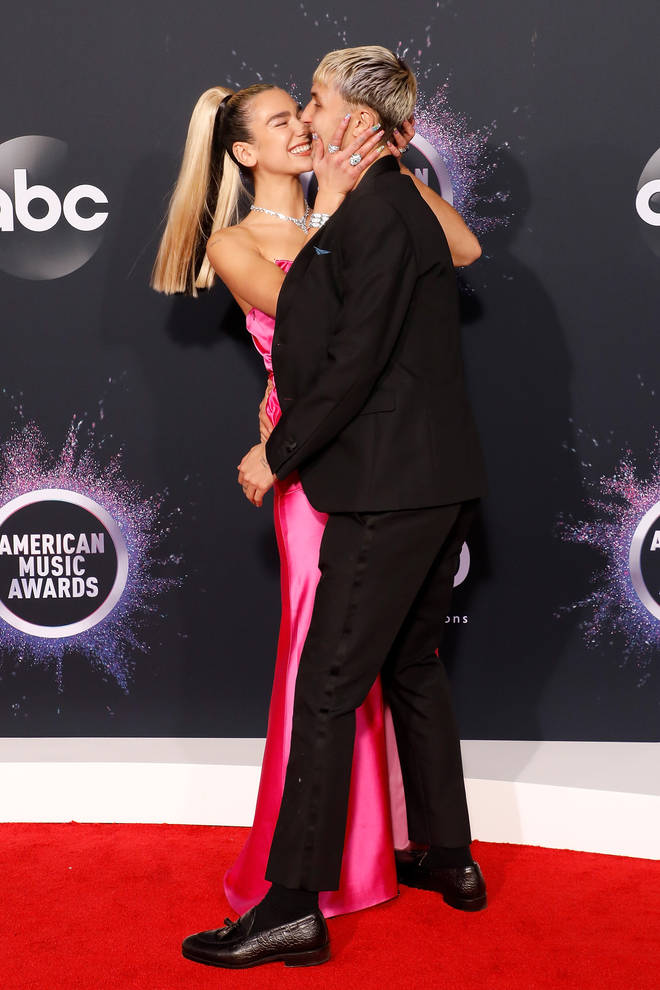 On the red carpet of the AMAs, Dua and Anwar delighted the paparazzi by kissing and cuddling in front of the cameras.
Dua stunned in a silky, pink floor-length dress complete with a black bow at the hip, while Anwar looked dapper in a classic, black suit.
The couple looked closer than ever at the awards ceremony, whispering in each other's ears and gazing into one another's eyes.
And when they took their seats for the ceremony, the couple sat hand in hand as they awaited the evening's events to unfold.
Anwar supports Dua at the EMAs - November 2019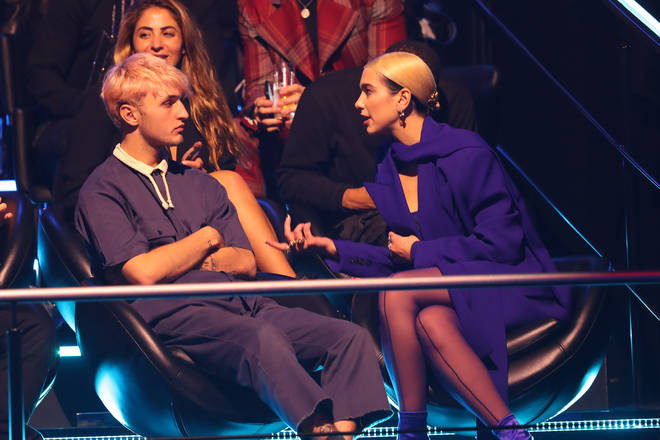 Anwar jetted to Seville with his girlfriend to support her at the EMAs, with Dua walking the red carpet alone before rejoining her beau in the audience.
At one point it looked like the couple were having a tense exchange, but moments later they were pictured kissing each other.
Dua performed her new single 'Don't Start Now' accompanied by hordes of dancers clad in yellow, while she stood out in a flesh-flashing, black cut-out leotard displaying her gorgeous figure.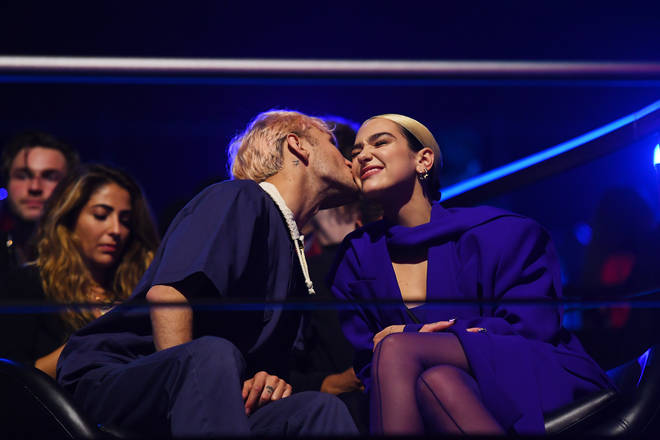 Moving in with each other - September 2019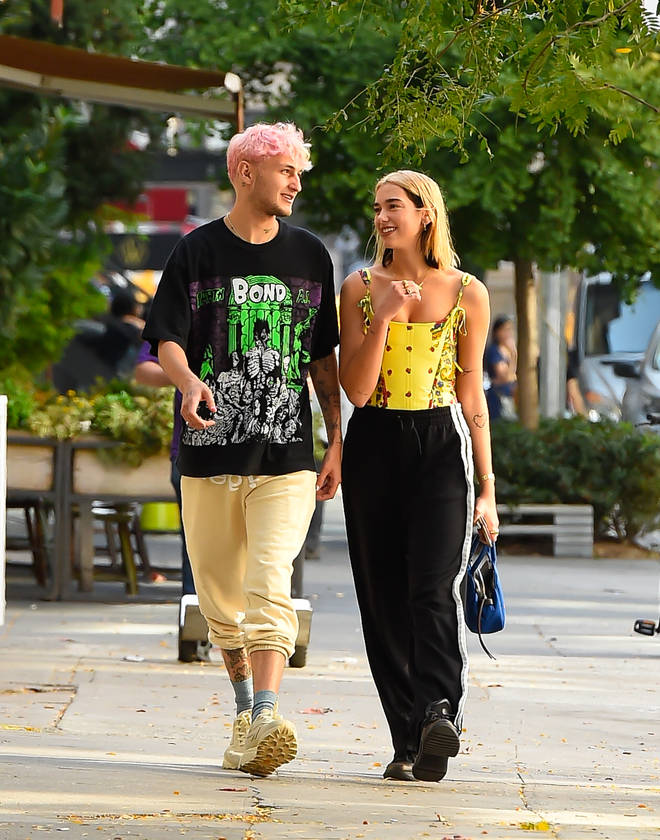 Yup, you read it right! Just two months into their relationship, it was reported the pair are renting a New York apartment together as they're spending so much time together in between their hectic working schedules.
Dua has been working on her second album, which she'll "finish in New York" and Anwar himself has released an album, 'BLEACH'.
The 'Don't Start Now' singer spent much of the summer in LA with Anwar, and he has also been over to London where she has a place, so a joint place in New York "made sense".
Dua was photographed celebrating the 20-year-old model's birthday in LA in June, and two months later they confirmed their relationship with a casual Instagram post.
Skip forward to August and Dua's big day- the pair flipped pancakes, cut a cake and then went to dinner with Dua's nearest and dearest, all without leaving each other's side!
Here's everything you need to know about their romance....
Confirming their romance
One month after they were pictured kissing at British Summertime Festival, Dua and Anwar made things Instagram official when she whisked her man away with her family to her hometown in Kosovo.
After attending Sunny Hill Festival, Dua shared a now-deleted snap of her and her beau standing side by side as they watched a gig together.
Dua's close family also went with the couple to the festival, proving Anwar quickly won over the singer's parents.
The festival holds a special place in Dua's heart as it's a partnership of the Sunny Hill Foundation, which was set up under the singer's patronage.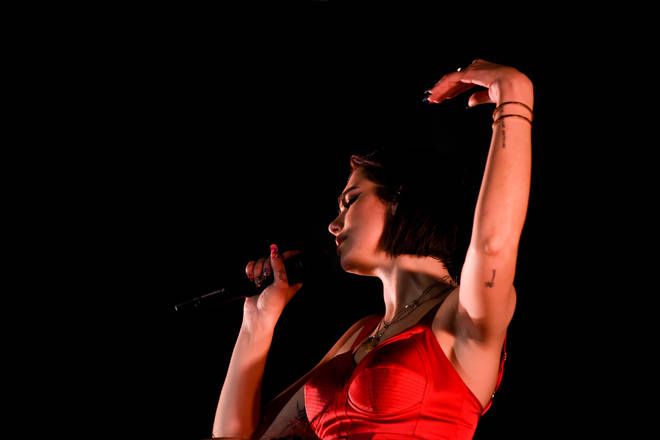 How they met
According to TMZ, the pop star and the model's romance began in June 2019 when the 20 year old showed Dua some of his own music he'd created.
An insider said things "started to snowball" when Anwar found out the 'New Rules' hitmaker had split from Isaac Carew, so he "reached out to her for a date" and they apparently had such a good time together they continued to see each other frequently while she was in LA.
It also helped that Dua is good friends with Anwar's big sister Gigi.
A source told a tabloid in June: "She has been in Los Angeles almost ever since [Dua and Isaac] split again and she has been able to spend time with Anwar, who she really gets on with.
"They are a lot closer in age and it's just been fun. It's a confusing time for both Dua and Isaac but she is just going with the flow and doing what feels right."
When did Dua Lipa split from Isaac?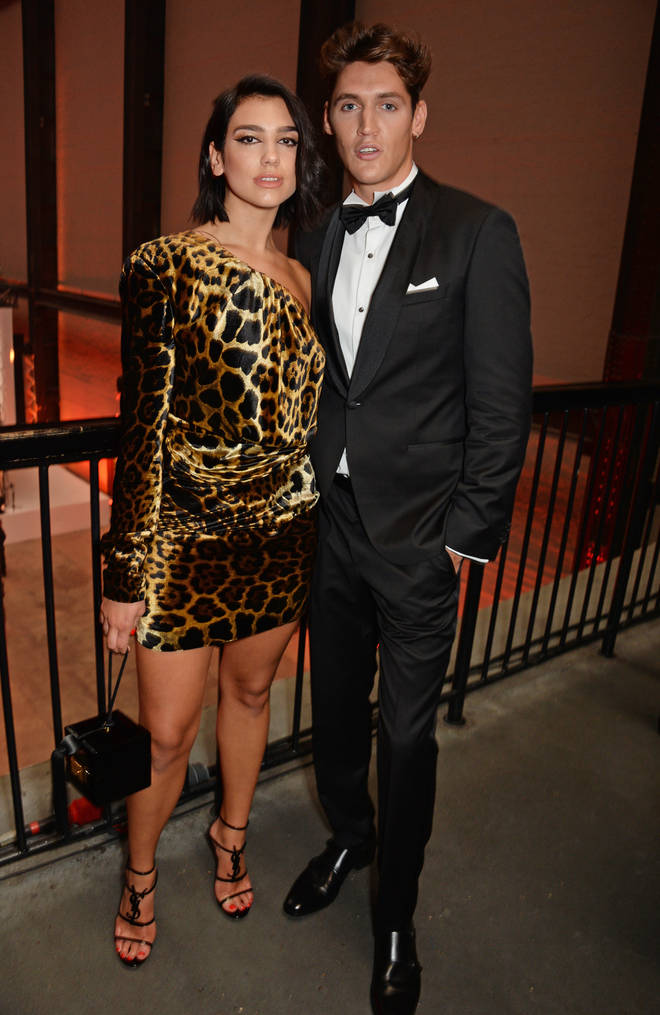 Dua split from Isaac at the beginning of June after her hectic schedule made it impossible for their relationship to work.
A source said at the time: "They wanted to make things work and things were great between them for a while but she is just getting busier and busier.
"She is gearing up to release new music and has basically been performing across the world non-stop for the past three years so it's been tough."
Dua and Isaac first got together in 2013 and they were together for three and a half years until early 2017, getting back together in January 2018.
However, it looks like she's sticking to her 'rules' this time and moving on!
> Download Our App For All The Latest News & Gossip!