Yorkshire Tour De France Route Revealed in Paris
23 October 2013, 12:51 | Updated: 30 March 2016, 13:50
The route the Tour de France will take next year in Yorkshire has been announced, including stages in Leeds, Sheffield and York.
The 101st Tour starts in Leeds on July 5, then there's a stage between York and Sheffield the following day, before it heads across the channel to France.
The Grand Départ of the Tour de France takes place in Leeds on the weekend of the 5th and the 6th July. The first stage races from Leeds to Harrogate via the Yorkshire Dales National Park
STAGE 1 ROUTE - www.letour.yorkshire.com/stage-1
The second stage races from York to Sheffield via Pennine Yorkshire.
STAGE 2 ROUTE - www.letour.yorkshire.com/stage-2
It finishes in Paris on July 27.
-----
Four time TDF winner Mark Cavendish could enjoy a strong start in Yorkshire.
The opening stage to Harrogate is expected to end in a sprint, giving him the chance to win the race in his mum's home town. The second, hilly stage is from York to Sheffield and could shake up the general classification
The Yorkshire start will be the fourth time the race has visited the UK and first since 2007.
The route was announced in Paris today and a group from Yorkshire attended the ceremony.
Get all the Tour information here - www.letouryorkshire.com
---
Special signs are going up along the route over the next few months so people in Yorkshire can cycle the official TDF route.
The first one went up this morning.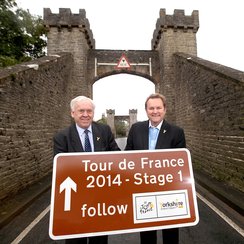 North Yorkshire County Councillor John Weighall and This is Yorkshire Chief Executive Gary Verity with the first tourist sign.