York Dad's Torture Over Missing Claudia Lawrence
18 March 2014, 00:00 | Updated: 30 March 2016, 13:50
Solicitor Peter Lawrence has made another emotional appeal marking the fifth anniversary of his daughter's disappearance.
Claudia Lawrence was 35-years-old when she failed to turn up for a work at York University on the morning of March 19, 2009.
Peter Lawrence says his family have been ``tortured'' by not knowing what has happened to her but that he has faith in a new investigation launched by North Yorkshire Police last year.
New information from the investigation team is expected to be released tomorrow to coincide with a a new TV appeal.
Speaking to Capital at a press conference in York, Mr Lawrence said:
"No-one knows, unless they're in the same position as us, what it means every day and, in fact, most nights - wondering, worrying, 'where are you Claudia, are you safe, is someone holding you, have you been hurt' - even, of course, 'are you alive'.
"It's now five years, which is over 1,800 of those days and nights. It is an awfully long time for anyone to be in this position. And it eats into you.
"It's actually like a cancer and it just gets worse and worse because there's no resolution until we know what happened to Claudia.''
Miss Lawrence's disappearance prompted a massive police investigation involving up to 100 officers.
But, after all leads failed to locate her, the inquiry was scaled back.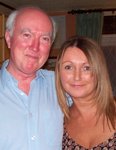 Last October, following the setting up of a new major crime unit at North Yorkshire Police, the investigation was relaunched, starting with a new detailed forensic examination of Miss Lawrence's house in the Heworth area of York.
Peter Lawrence Talks To Alice Bailey