TV Producer Jailed In Paedophile Hunters Sting
9 March 2018, 18:00 | Updated: 10 March 2018, 10:26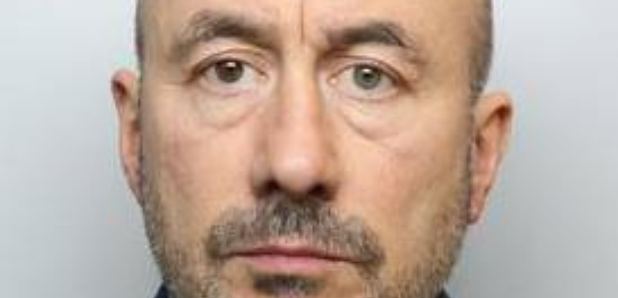 An Irish TV producer who was tricked by a paedophile-hunting group into travelling to Leeds to meet what he thought was a 13-year-old girl has been jailed for 18 months.
Kieran Creaven, 55, flew from Dublin to Leeds to meet a "girl" he had groomed on Facebook with hundreds of messages.
But the fictional teenager - Keeley Nutton - had been created by Leeds-based group Predator Exposure.
Leeds Crown Court heard how married Creaven - who worked as a sports producer for RTE - was living in a "cyber-world of internet pornography".
Kitty Colley, prosecuting, said he told police he viewed sex abuse images of children as young as eight.
He admitted he had made online contact with 15 to 20 teenage girls, aged between 13 and 18, blackmailing some of them by threatening to release information about them on Facebook.
The prosecutor said the defendant thought he was flying to meet Keeley on November 18, after inviting her to stay in the Queens Hotel and go to a Leeds United match with him.
He had made a fake online profile, telling the girl he was a man in his late 30s called Jimmy Cee.
The prosecutor said the pair exchanged hundreds of messages between July and November last year.
At one point, he sent the girl a picture of his erect penis.
Ms Colley said his messages to the girl included one which said: "I'm wishing you were here in bed with me warm and snuggled under the duvet. I'll keep you wrapped up in my arms all night. Smell your hair. Kiss you. Wake up together in the morning."
Another said: "You are cute and funny and a hottie. Good combination."
Ms Colley said Creaven told police: "I need professional help. I find children attractive."
The prosecutor told the judge the messages made clear from the beginning that the girl was 13.
He was detained by people from the Predator Exposure group outside the Queens Hotel on November 18.
The group streamed the encounter live on the internet.
The court heard how Creaven had two boxes of condoms and a list of girls' names when he was arrested.
Ian Cook, defending, said: "He was living in almost a cyber-world of internet pornography."
Judge Simon Phillips QC told him: "You believed you were dealing with a real person, and you believed her to be 13 years of age."
Creaven stood in the dock with a security guard, and was wearing a white, open-neck shirt and a dark overcoat.
He pleaded guilty at a previous hearing to attempting to meet a child following grooming for a sexual purpose and attempting to cause or incite a child to engage in sexual activity, namely kissing and cuddling.