Tour De Yorkshire 2017: The Publicity Caravans Are Back
27 April 2017, 16:58 | Updated: 27 April 2017, 17:02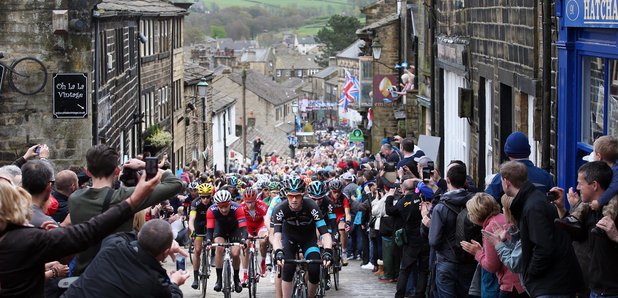 The colourful and creative publicity caravan will return to the Tour de Yorkshire for a second year.
The hugely popular spectacle sees some of the county's best-loved brands travel ahead of the riders each day of the race in a parade of specially decorated vehicles to excite the crowds and hand out freebies and keepsakes.
This year's caravan has tripled in size and will include Yorkshire Bank Bike Libraries, Virgin Trains, Doncaster Sheffield Airport, Flybe, Aunt Bessie's, Mug Shot, Alzheimer's Society, the Tour Down Under, Welcome to Yorkshire, the Consulate of Pakistan, Lucy Pittaway, Fuel for School (The Real Junk Food Project), Harrogate Spring Water, Keelham Farm Shop (stage three only) and vintage Jowett cars.
Cycling fans will also be able to get up close and personal with some of the legends of the sport, our Tour de Yorkshire ambassadors, as they travel behind the caravan, meeting fans and posing for photographs. This will be compered by one of Britain's greatest former professional cyclists, Hugh Porter MBE.
Mirfield's Brian Robinson, the first Briton to win a stage of the Tour de France will be joined by Denise Burton-Cole, world-class rider and daughter of the legendary Morley cyclist Beryl Burton, Sheffield sprinter, Malcolm Elliott, and Barry Hoban, from Wakefield, who won eight stages of the Tour de France between 1967 and 1975.
Sir Gary Verity, Chief Executive of Welcome to Yorkshire, said:
"The publicity caravan is a fantastic way to gear the crowds up ahead of the race and we're thrilled to see it has tripled in size after the popularity of last year's event.
"We've got some of the county's best-loved brands taking part, as well as the Consulate of Pakistan and the official Tour de Yorkshire artist, Lucy Pittaway, so it'll be a superb spectacle and is not to be missed.
"We're also delighted to welcome our wonderful race ambassadors back, who will travel behind the caravan and help to make this year's Tour de Yorkshire one to remember."
The race starts in Bridlington on Friday, April 28 and finishes in Fox Valley, Sheffield, on Sunday, April 30th.
The approximate timings for the publicity caravan are:
Friday, April 28: Bridlington start (10:35), Driffield - A164 / B1249 roundabout (11:05), Pocklington - Kilnwick Road (11:55), Malton town centre crossroads (12:53), Cote de Goathland (14:14), Whitby sprint (14:42), Cote de Robin Hood's Bay (15:01), Scarborough - A165 (15:46) and then on to the finish line on Royal Albert Drive (15:59).
Saturday, April 29: Tadcaster start (12:05), Knaresborough - Bond End (12:23), Ripley (12:55), Burnt Yates (13:01), Pateley Bridge High Street (13:31), Cote de Lofthouse (13:51), Masham - The Avenue (14:23), West Tanfield (14:40), Ripon sprint (14:53) and on to the finish line in Harrogate on Parliament Street (15:53).
Sunday, April 30: Bradford start (10:10), Burley in Wharfdale (10:23), Addingham - Bolton Road (10:41), Skipton High Street (11:43), Haworth (12:30), Queensbury (12:58), Brighouse (13:30), Birstall - Low Lane (13:47), Holmfirth (14:48), Penistone - Bridge Street (15:04) and then on to the finish in Fox Valley (16:13).