Teacher Stabbed In Bradford School: Teen Remanded
13 June 2015, 11:10 | Updated: 30 March 2016, 13:50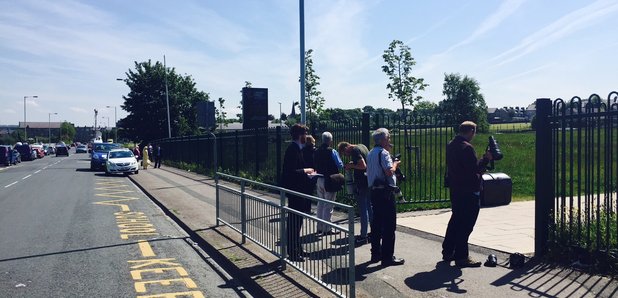 A 14 year old boy's appeared in court over the stabbing of a teacher at a school in Bradford.
He's been remanded in custody.

A 50 year-old is still in hospital after being attacked at Dixons Kings Academy on Thursday.

___________________________________________________________________________________________

UPDATED 13Th June 2015, 6am

Police have arrested a 14 year old boy on suspicion of attempted murder after a teacher was stabbed in Bradford.

The teenager will appear in court later.

He was arrested after supply teacher Vincent Uzomah was stabbed in the stomach as he began a science lesson at Dixons Kings Academy in Bradford on Thursday.

The Crown Prosecution Service (CPS) said he will appear before magistrates in Bradford today.

Martin Goldman, of CPS Yorkshire and Humberside, said:
"The Crown Prosecution Service has been working closely with West Yorkshire Police in connection with this case.

Having carefully considered all of the evidence presented to us, we have concluded that there is sufficient evidence and that it is in the public interest to charge a 14-year-old youth with attempted murder.''

Mr Uzomah, who had been working at the school for a few weeks, was taken to hospital and was last night said to be in a stable, non-life threatening condition with his family by his bedside.

Police were alerted by paramedics who were called to the school at around 8.55am. The incident was witnessed by a number of other children in the class.

The attack led to a six-hour hunt for a pupil who was later arrested in the city centre.

________________________________________________________________________________

UPDATED 11th June 2015Children have witnessed a supply teacher being stabbed in the stomach with a kitchen knife as he began to teach a science lesson
The stabbing of the 50 year old, at the Dixons Kings Academy, in Bradford, sparked a police hunt for a 14-year-old boy.
The teenager, who is a pupil at the academy, was arrested in the centre of the city about six hours later on suspicion of attempting to murder the teacher, who had only been working at the school for a few weeks.
Detective Superintendent Simon Atkinson, of West Yorkshire Police said specially trained staff were talking to the children who 'potentially witnessed something horrendous'.
Parents who gathered outside the school after hearing the news said the school had a good reputation for discipline but were concerned about the effects on their children.
Police were alerted by paramedics who were called to the school at around 8.55am.
Mr Atkinson said:
'There were a number of pupils who witnessed this incident, which took place in a classroom, and they are currently liaising with our specially trained officers who are obviously supporting them at this difficult time.
'This is believed to be an isolated incident and the police are continuing inquiries to establish the facts.
'I would like to reassure residents and staff that all necessary resources are being deployed to investigate this ongoing and clearly serious incident.''
Mr Atkinson was speaking in front of the school, which is about a mile and a half (2.4km) from the centre of Bradford, shortly after hundreds of pupils left for the day.
'We're speaking with the pupils there to see what they actually saw,'' Mr Atkinson said.
'We've got a welfare issue to make sure we manage as well since they potentially witnessed something horrendous.'
Speaking outside the school gates, the executive principal of the Dixons Academy group in Bradford, Nick Weller, said:
'It happened right at the beginning of the school day and there were some students who witnessed it. A few students witnessed it - in a classroom.
'Those students have been interviewed by the police. Obviously, it's a very shocking thing for them to see. The general atmosphere in the school is very calm, quite orderly, we're trying to keep to normal routines as much as possible.'
Mr Weller said there was nothing in school that suggested the attack was going to be launched.
He said:
''I think there was some....the police are looking into the lead up to this incident, there was nothing in school that led up to it - there may have been other people outside the school who maybe knew something.''
He confirmed the suspect is a pupil had been at the school for a year.'