South Yorkshire Police Chief Constable Suspended
27 April 2016, 17:06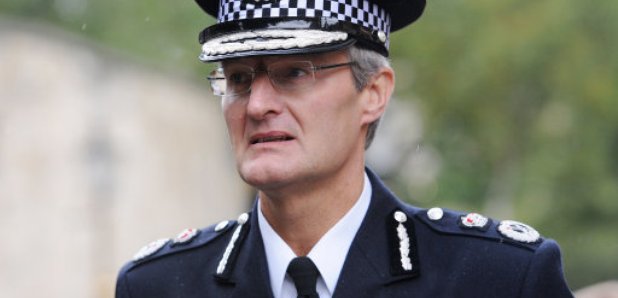 The chief constable of South Yorkshire Police has been suspended in the wake of the Hillsborough inquest findings
On Tuesday, David Crompton admitted the force got the policing of the match ''catastrophically wrong'' and ''unequivocally'' accepted the inquest jury's conclusions.
His suspension comes after the jury found that 96 Liverpool fans were unlawfully killed.
South Yorkshire's Police and Crime Commissioner Dr Alan Billings said he had no choice but to act ``based on the erosion of public trust and confidence''.
Dr Billings said:
"I have been left with no choice other than to suspend David from his duties as chief constable of South Yorkshire police.
I have reached this decision with a heavy heart following discussions with David both in the run-up to and following the delivery of the Hillsborough verdicts.
My decision is based on the erosion of public trust and confidence referenced in statements and comments in the House of Commons this lunchtime, along with public calls for the chief constable's resignation from a number of quarters.''
His announcement came after shadow home secretary Andy Burnham, who has long campaigned for justice for the Hillsborough victims, called for the chief constable's resignation in the House of Commons.
Mr Burnham also called for all those responsible to be held to account for the 96 unlawful deaths and a "27-year cover-up''.
Mr Burnham said the jury's conclusions had finally brought justice and there were three reasons why "something so obvious'' took 27 years to establish.
He said:
"First, a police force (South Yorkshire) which has consistently put protecting itself above protecting people harmed by Hillsborough.
Second, collusion between that force and complicit print media.
Third, a flawed judicial system that gives the upper hand to those in authority over and above ordinary people.''
He said that South Yorkshire Police had gone back on its 2012 public apology following the release of the Hillsborough Independent Panel report and engaged in an "adversial battle'' at the fresh inquests.
He said:
"Shamefully, the cover-up continued in this Warrington court room. Millions of pounds of public money were spent re-telling discredited lies.
Lawyers for retired officers threw disgusting slurs; those for today's force tried to establish that others were responsible for the opening of the gate.
If the police had chosen to maintain its apology, this Inquest would have been much shorter.
But they didn't and they put the families through hell once again.''
Home Secretary Theresa May repeated the jury's determinations to a hushed House and outlined the criminal charges that are being investigated.
After sitting for more than two years, the jury found that blunders by South Yorkshire's police and ambulance services "caused or contributed to'' the deaths as a result of the disaster at the 1989 FA Cup semi-final.
The jury also concluded that Liverpool fans were not to blame for what happened.
Mrs May said:
"Once the formal investigations are concluded we should step back, reflect and act if necessary so that we can better respond to disasters and ensure that the suffering of families is taken into account.''
Replying to Mr Burnham, the Home Secretary said: ``What the families faced was a combination of the state in all its various forms not believing them and all the various, as you said, the various attempts to cover up what really happened, together with other agencies, the media and others and indeed, dare I say it, most of the general public, who believed the stories that they read about the fans.
To have stood against that for so long shows a steel and determination but also an affection for their lost loved ones and passionate desire for justice on behalf of those who died.
That is, as I said, extraordinary and I think we will rarely see the like again.''