Rugby League's Sam Barlow Avoids Jail for Assault
30 September 2016, 13:21 | Updated: 30 September 2016, 13:24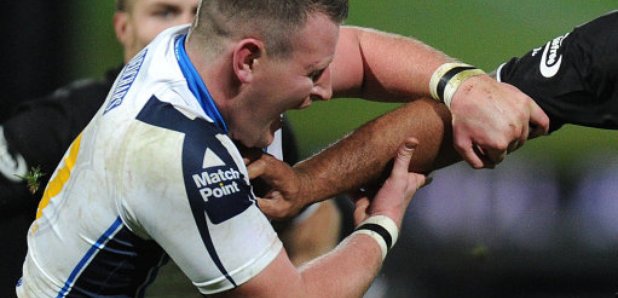 A professional rugby league player has been spared jail for assaulting an anti-doping officer who called at his home to carry out a random drugs test.
Sam Barlow, 28, was ordered to do 150 hours' unpaid work by a judge at Bradford Crown Court, after he was abusive and aggressive to Mark Dean, who feared he was going to be punched by the 6ft 3in, 18-stone loose forward for Leigh Centurions.
Barlow, described as "physically imposing'', clenched his fist and drew back his arm, stood over Mr Dean and then barred his way as the "fearful'' doping control officer for the UK Anti-Doping agency tried to leave the rugby player's home, the court heard.
Barlow, a graduate in sports science who has also played for Huddersfield, Sheffield, and represented Scotland in the 2013 RL World Cup, admitted common assault on July 31 last year at his home in Halifax, West Yorkshire, at an earlier hearing.
The court heard his career was now in ruins as he had already been given a four-year ban from all sporting activity by the UK Anti-Doping agency for not taking the random, unannounced test when Mr Dean called last year.
Passing sentence on Friday, Judge Jonathan Rose told Barlow: "Perhaps at no time more than this Olympic year has the public been more aware of incidents of doping in sports and the vital role of UK Anti-Doping in ensuring athletes are clean.
"Your behaviour towards Mr Dean was wholly unacceptable and wholly uncalled for.
"He was courteous and polite, you met him with aggression and abuse.
"And you will understand now how much more fearful Mr Dean would be, seeing you behave in this way, because of your build and your size and his knowledge your chosen sport was rugby league.
"In his statement he describes your aggression and menace and he believed you were about to punch him.
"You have brought shame upon yourself and upon Leigh Rugby League Club.''
Judge Rose said he had considered jailing Barlow, who did not physically assault Mr Dean, but for the four-year sporting ban he had already been given which left his career ``in ruins.''
He added: "To send you to prison on top of that punishment would be, in the view of this court, harsh and unjust.''
Barlow was ordered to do the 150 hours' unpaid work, given a two-year community order and must pay £300 court costs.
Earlier Ken Green, prosecuting, told the court that Mr Dean called at Barlow's home in Garside Drive, Halifax, to do the random test, wearing his ID badge on a lanyard, at about 8.45pm last July 31.
Barlow emerged from his house wearing just a pair of shorts and began "pointing and gesticulating'', accusing the visitor of trying to break into his house.
Mr Green told the court: "The defendant became even more aggressive, saying 'I'm sick of you lot harassing me.'''
But after letting Mr Dean into the house he told him he was going to call police and report Mr Dean as a burglar.
The doping official became "very fearful'' of Barlow, who drew his right hand back into a fist and stood over Mr Dean who told the player "I want to get out'' but then barred his path to the door.
Police arrived and checked a neighbour's CCTV of the incident.
Barlow was later interviewed and charged with common assault, perverting the course of justice and false imprisonment. No evidence was offered on the two last charges and they were dropped by the prosecution.
Guy Gozem QC, mitigating for Barlow, said his client was in the "worst of all worlds'' having lost his rugby career and, having got a sports science degree, had also had to give up coaching youngsters in schools due to his ban, and left with £40,000 in debt and no income.
He added: `"He was not in any sense known as an arrogant bully, he was known as a decent man and worked in the community in schools, where everyone seems to praise his conduct and behaviour.''