Nicola Adams Wins Professional Debut
9 April 2017, 06:07 | Updated: 9 April 2017, 06:11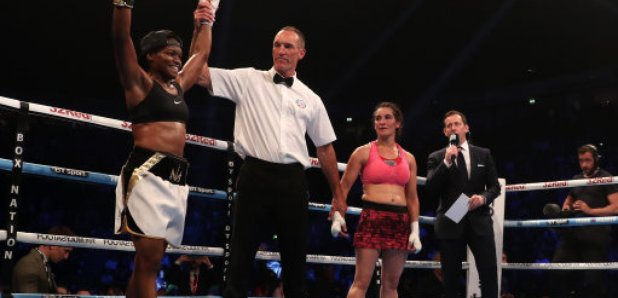 Nicola Adams paved the way for a glorious return to her home city of Leeds next month after sailing to a points win over Argentina's Virginia Carcamo on her professional debut at the Manchester Arena.
Introduced as 'The Lioness' and fighting without a head-guard for the first time, Adams gradually grew into her four-round contest and ended it exhibiting the sharp-punching skills which had swept her to two Olympic gold medals.
Having dropped barely a bead of sweat on the way to a predictable 40-36 success on referee Steve Gray's scorecard, her promoter Frank Warren was quick to confirm Adams' second paid bout for May 13 at the First Direct Arena.
Warren said: "I think it will be Nicola's first home fight since she was 13 so it will be a bit of a homecoming - it will be a special night and it is part of the process.
"After a couple of fights then we'll look and decide between us whether we feel we can go for a title.''
Clad in a bright white gown, Adams had made her way to the ring to respectful applause in contrast to the cascades of cheers - or in some cases boos - which have greeted previous Olympians.
Adams' popularity both in British boxing and beyond is not to be under-stated after a stellar career which besides Olympic glory also included a clean sweep of Commonwealth, European and world amateur titles.
In contrast, in Carcamo she came up against an opponent who had no amateur career to speak of, and had fought seven previous professional bouts, winning four, all inside her native Argentina.
To her credit Carcamo certainly seemed undaunted by the occasion and the first round was relatively even as Adams took some time to get to grips with her different set of circumstances.
Cheered on by her partner Marlen Esparza, one of a number of other Olympians to have recently turned professional, at ringside, Adams looked much sharper in the second round as she landed swiftly and accurately with both hands.
In a better third, a superb long left clearly hurt the Argentinian, but to Carcamo's credit she came back for more and never looked in any danger of succumbing to defeat before the final bell.
Adams admitted her desire to impress had led to a scrappy opening period but expressed delight that her long-awaited professional career was finally underway.
Adams said: "I absolutely enjoyed every minute of it. I was a bit too eager to try and get the stoppage tonight because I wanted to entertain the crowd - but the girl was quite tough.
"It was a lot better (than amateur). You can see more without the head-guard. It doesn't affect your vision so much so that's good - I loved it.''
Adams paid tribute to her trainer Virgil Hunter, with whom she has spent time in San Francisco training for this fight, alongside world champions like Andre Ward and Amir Khan.
Adams added: "I'm learning absolutely everything. I watch Andre Ward spar and it's like poetry, it's beautiful to watch.
"I'm learning so much. He (Hunter) knows how to take an Olympic champion and turn them into a pound-for-pound world champion - that's why I'm training with Virgil.''