Newly Elected Tracy Brabin pays Tribute to Jo Cox
2 November 2016, 18:53 | Updated: 2 November 2016, 18:59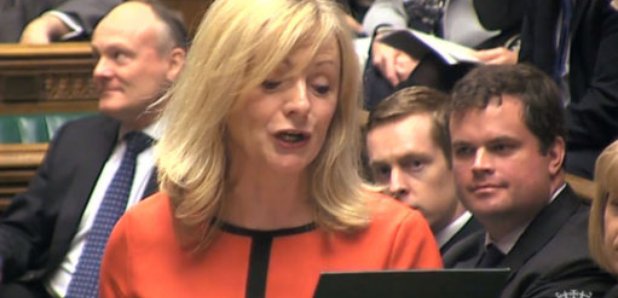 Tracy Brabin was applauded by MPs after using her maiden speech to pay tribute to her friend and "inspiration'' Jo Cox.
Labour's newest MP said the killing of Mrs Cox will "stay with everyone'' in Batley and Spen for the rest of their lives.
But Ms Brabin struck a defiant tone as she told the Commons: "Batley and Spen will not be defined by the one person who took from us, but by the many who give.''
Former Coronation Street star Ms Brabin was elected last month to replace Mrs Cox, who was killed just days before the EU referendum in June.
Ms Brabin was surrounded by party colleagues as she rose to deliver her first speech in the Commons.
She opened by paying tribute to the political parties who opted not to stand in the by-election out of respect to Mrs Cox.
Ms Brabin said: "I wasn't elected in a conventional way and it was in the darkest of circumstances through the loss of my friend and inspiration, Jo Cox, that I came to be here.
"What happened wasn't only an attack on a woman, family and a community, it was an assault on the principles and basis of our democracy.''
Ms Brabin also said: "I will stand tall against those whose only mission is to divide our community.''
She praised Batley and Spen's voluntary and community sector and recalled Mrs Cox's first speech to Parliament.
Ms Brabin said: "It was in her maiden speech that Jo said 'What surprises me time and time again as I travel around the constituency is that we are far more united and have far more in common than that which divides us'.
"It was true then and it is even more the case now.
"We will never forget the difference Jo has made and through her legacy continues to make.
"She was and is unforgettable.
"One gentleman from the community reflected 'Jo was a small woman with a big kick'.
"I witnessed that kick campaigning alongside Jo and the community to successfully defend Batley and Birstall's local libraries.''
Ms Brabin recalled how her local council prevented her family from becoming homeless when she was aged six, as she pledged to help families struggling to secure a place to live.
She said: "Dad had been unemployed for a while, we'd fallen behind in the mortgage repayments so my mum had to hand back the keys to the building society.
"We would have been homeless had it not been for the council which found us a roof over our head.
"But that wasn't an active charity. It was a combination of political will and solidarity from local and nationally elected representatives.
"Today there are now 14,000 people on the council house waiting list in Kirklees.
"Affordable housing is further out of reach than ever and I will work hard to ensure other families don't suffer the stress and anxiety that we did.''
She added culture can be an "engine of change'' for communities and praised Batley Variety Club.
Ms Brabin said: "Young people's futures are more uncertain than ever. Whatever their ambitions, we must give them hope and belief that they can be the best.''
Her speech emerged during a Labour-led debate on police officer safety, with the Batley and Spen MP praising West Yorkshire Police for its reaction to the attack on Mrs Cox.
Tory MP Philip Davies (Shipley) praised Ms Brabin for her "truly outstanding'' maiden speech.
He said:"Jo Cox could not have hoped for a better successor to her than the honourable lady.
"Having listened to her speech, I'm sure the people of Batley and Spen feel that they couldn't have hoped for a better successor to Jo Cox than her today.''