Murder Investigation Over Tommy Ward Death
1 April 2016, 16:07 | Updated: 1 April 2016, 16:09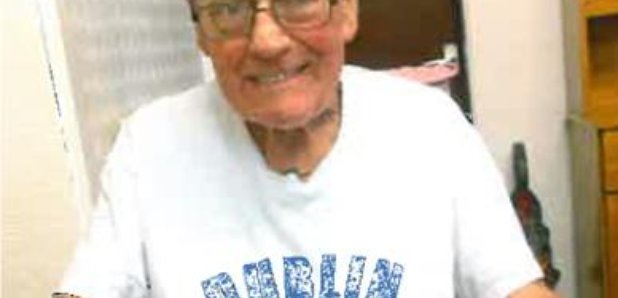 Police investigating the death of a pensioner five months after he was severely beaten in his home by robbers say they are now treating it as a murder investigation.
Ex-miner Tommy Ward, 80, was found badly injured at his home in Salisbury Road, Maltby, Rotherham, on October 1 and around £30,000 was thought to have been taken.
The great-grandfather of 15, who weighed just 9st, died in February in Rotherham Hospital, where he had been receiving treatment since the attack.
Detectives said they were launching the investigation as a murder inquiry on the six-month anniversary of the "vicious attack on a vulnerable man''.
Detective Inspector Richard Partridge said: "Exactly six months ago, 80-year-old Tommy Ward was attacked in his own home on Salisbury Road, robbed and left seriously injured by his cowardly attackers.
"Tommy sadly passed away last month and his family have been left heartbroken and devastated, with the untold feeling of grief and sadness knowing Tommy will never be able to see his attackers brought to justice and behind bars.
"The post-mortem examination proved to be inconclusive and we are awaiting the results of additional tests to establish the exact cause of his death, to further piece together and uncover exactly what happened that night, however we are now investigating the incident as murder."
Mr Partridge said: "The assault shocked what is a tight-knit local community and the support we have received from residents in Maltby, as well as the wider public in Rotherham, since the attack has been very encouraging and I am extremely grateful.
"We do still need your help to understand what happened that night Tommy was attacked and I would ask anyone with information to get in touch with us.
"Tommy did not deserve this and his family have the right to know why their much-loved father, grandfather, uncle, brother was brutally attacked in his own home.
"Someone knows what happened that night in October. I would ask that person to consider how they would feel if this had happened to a member of their family.
"How would you feel knowing your elderly relative had been robbed and beaten in his own home?
"Whoever is responsible for such a vicious attack on a vulnerable man does not deserve to be shielded by anyone, and I would again ask, even if you feel your information is not that significant, please make contact with us as the smallest detail could be vital to our investigation.''
Five people were arrested in connection with the attack but later released.
Detectives said a safety deposit box was taken in the break-in, and a similar one was found in the Kilnhurst area of Rotherham two weeks after the attack.
Members of the public donated more than £30,000 to replace his lost life savings in an online appeal.
Some 2,250 people made donations to the appeal after reading how the old soldier was left for dead with a smashed skull, broken ribs and a fractured jaw.