Otley Lorry Driver Starts Fund For Murdered Trucker
23 December 2016, 16:57 | Updated: 23 December 2016, 17:02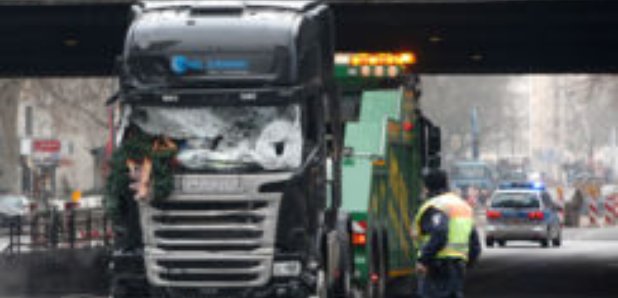 A crowd-funding appeal set up by a British trucker to help the family of the Polish driver who died in the Berlin terror attack has now passed £100,000.
More than 6,500 people have contributed to a fund titled For The Family Of Lukasz Urban in the three days since it was set up by Yorkshire lorry driver Dave Duncan.
Mr Urban, 37, was stabbed and shot dead in the cabin of his truck and is thought to have been the first victim of the attack.
As the total moved into six figures, Mr Duncan, from Otley, West Yorkshire, posted a message on his fundraising page he said he has sent to Mr Urban's widow, Zuzanna.
The message begins: "You dont know me, my name is Dave and I am a truck driver just like your brave husband.
"I am so sorry, as are all his truck driving brothers across the UK for your terrible loss. Your man should never have been taken this way and in my eyes he is an hero.
"When I read about the shocking events and his brave, unselfish actions that led to your loss I felt compelled to try help his family in some small way, and came up with idea of raising a little money for you to use however you saw fit.''
The letter continued: "No money will ever replace Lukasz I know, but hopefully it will help you and your family in the future without him.
"An amazing amount of people saw what I saw in Lukasz, a hard working man just doing his job in the place at the wrong time, and have chosen to use the fund that I set up to express their sorrow at your loss, and help his family in their darkest hour.''
Mr Duncan then asked Mrs Urban to contact him in her own time so he can arrange to get the funds to her.
He added: "He will never be forgotten, Lukasz Urban, husband, father, trucker, hero.....a great, great man.''
In a series of posts on gofundme.com, Mr Duncan said he is working with the crowdfunding site to make sure the cash reaches Mr Urban's family and has used the website to keep donors up to date with his attempts to contact them through the deceased driver's company and Polish journalists.
He said in one update: "I can assure everybody who has donated that their gifts will get to Lukasz's family, even if it means driving to Poland myself.
"Although it is wonderful to receive messages of support, I am no hero or angel. I am simply a truck driver with a small idea that snowballed with your generosity. Lukasz is the only hero!''
On Wednesday, the manager of Mr Urban's Polish trucking company, Lukasz Wasik,described him as a "good, quiet and honest person'' who was devoted to his work.
On TVP, Poland's state broadcaster, Mr Wasik said: "I believe he would not give up the vehicle and would defend it to the end if were attacked.''
:: Mr Duncan's site is at www.gofundme.com/van9vwuk