Man Dies After House Explosion Near York
19 February 2016, 10:29 | Updated: 30 March 2016, 13:50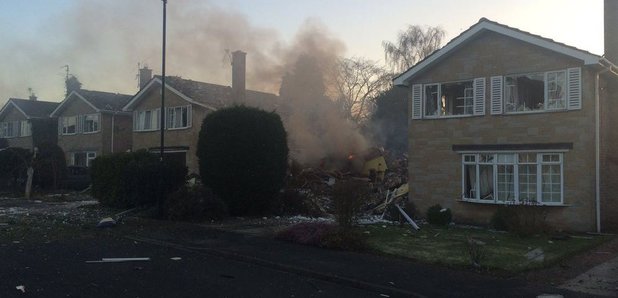 A 63 year old man's died in an explosion at a house in Haxby near York.
Emergency services attended the detached building around 7:30am this morning, which was reduced to rubble and nearby properties badly damaged.

People in the street said they did not believe anyone was in the house at the time.

North Yorkshire Police said nearby residents had been evacuated.

They said they believed the cause to be a gas explosion but this had not yet been confirmed yet.

A spokesman said:
"Emergency services are at the scene of an explosion at a property in Springwood, Haxby, near York.

Extensive damage has been caused to one house and a number of others in the area are also damaged.
Local residents have been evacuated and a rest centre has been set up at Haxby Memorial Hall for those affected.

The explosion was reported to North Yorkshire Police at 7.30am today.
There is at least one casualty; however, we are unable to provide any further information regarding casualties at this stage.

The area is cordoned off and there will be disruption to the surrounding area as emergency services work to protect the wider area.''

Windows in the neighbouring houses in the leafy residential cul-de-sac were blown out and debris has been scattered across the road and gardens.

People have been urged to stay away from the scene, and remain indoors if they live in the area.

The force Tweeted:



One local said the explosion sounded like a crash.

The man, who did not wish to be named, was around 150 yards away at the time and described the loud bang which he said had "flattened'' the property and damaged others nearby.

He said:
"The house has been completely flattened. It sounded as if a bus or something had crashed into a house, or like an aeroplane crash.
All the properties adjacent to the one that's blown up have got damaged windows and garages.''

Windows at St Margaret Clitherow Church in Holly Tree Lane and the presbytery are also understood to have been damaged.

The man said other people had told him they did not think anyone was in the property at the time.

He said: "Neighbours didn't think there was anyone there.''


Local residents reported their houses were shaken by the blast, which some thought was an earthquake.

Ellie Hig, tweeted: `"Did everyone else in Haxby hear that?????? Ok now I can hear sirens. Praying no one was in that house.''

Amy Hewitt wrote: "Woah has there been an explosion in Haxby the house just shook?''

At the scene, the road was cordoned off and four fire engines could be seen outside the destroyed house.

The detached houses either side of the property were badly damaged.

The windows had been blown out of one neighbouring house and the roofs of many houses on the street had been damaged by the explosion.

Neighbours said the blast was heard across the area this morning.

One woman, who did not want to be named, said she felt the explosion from a street away.

She said: "There was a tremendous bang this morning. It shook the bed and the whole house.''