CSE Awareness Day In South Yorkshire
18 March 2015, 06:08 | Updated: 30 March 2016, 13:50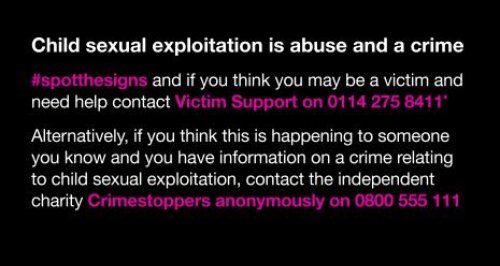 South Yorkshire Police is holding a week of activity across the county to raise the awareness of child sexual exploitation and the work the force is doing to tackle it.
The activity is being held to highlight National Child Sexual Exploitation Awareness Day, which takes place on today.
The awareness day has been set up by the National Working Group Network (NWG) to highlight child sexual exploitation issues, encourage everyone to think, spot the signs, speak out against abuse, and adopt a zero tolerance approach.
Part of the campaign involves members of the public and organisations showing their support by writing a personal pledge and posting it on social media with the hashtag #HelpingHands.
South Yorkshire Police is supporting the #HelpingHands social media campaign and will be encouraging followers to share images of their pledge.
The force has planned activities including a live webchat with officers who tackle exploitation, road show events across the county to raise public awareness and launching a partnership project with Amelix, a company that provides training packages for schools.
The force will also be launching a dedicated web page with facts and figures about the number of ongoing investigations and prosecutions related to CSE, which will be updated regularly with progress on bringing offenders to justice.
Assistant Chief Constable Ingrid Lee said: "We are committed to tackling child sexual exploitation and have a significant number of dedicated officers involved in ongoing investigations and working to prevent abuse.
"However, we must all work better and more closely together to protect the vulnerable in our community and that includes raising the awareness of the public.
"This week's activity is key in encouraging all members of society to spot the signs of child sexual exploitation and take action.
"It complements the partnership awareness raising campaign we have been running since November. The Spot the Signs campaign has received positive feedback and generated several online discussions.
"We understand more needs to be done and we would encourage all victims to come forward and tell us about what happened to them in the knowledge they will be listened to, they will be taken seriously, and their needs will be supported."
South Yorkshire Police and Crime Commission Dr Alan Billings added: "We have seen from recent events and media coverage how the issue of child sexual exploitation is one that is not going away. The abuse of vulnerable young people must be tackled as quickly as possible to allow children to enjoy the childhoods they deserve.
"Raising awareness of the signs of abuse is vital for the sake of individuals at risk, parents and carers of vulnerable young people and must now be everyone's priority.
"I urge everyone to take this matter seriously, contact the police if you know or suspect anyone at risk of harm and help the police and partner agencies bring about justice for the victims and survivors of child sexual exploitation in South Yorkshire."
The webchat will take place between 6pm and 8pm on Wednesday. To join the conversation go to the website www.southyorks.pnn.police.uk/webchats.
To find out about CSE awareness day visit the website www.stop-cse.org and to learn more about what South Yorkshire Police is doing to tackle child sexual exploitation visit www.southyorks.police.uk/spotthesigns