Bradford Mum Gets 15 Years For Boy's Death
4 October 2013, 13:31 | Updated: 30 March 2016, 13:50
The mum of a four-year-old boy whose body was left in a cot for two years after she let him starve to death in Bradford has been jailed.
Alcoholic mum-of-eight Amanda Hutton was found guilty of the manslaughter of Hamzah Khan by a jury at Bradford Crown Court.
A two-week-long trial heard how Hamzah's decomposed and insect-infested body was discovered in a travel cot in Hutton's bedroom at their home in September 2011.
He died in December 2009 due to malnutrition after his mother's alcohol addiction took over her life.
Questions are now being raised about how the death of young boy could go unnoticed for so long, especially after his body was only found due to the tenacity of a rookie police community support officer (PCSO).
They also found five of his siblings, aged between five and 13, living among the knee-deep pizza boxes, used nappies, vodka bottles and cat faeces.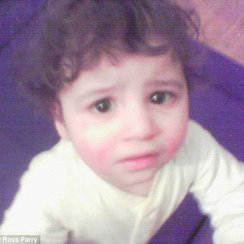 A serious case review into Hamzah's death has been conducted by the Bradford Safeguarding Children Board (BSCB) which will be published later this year.
It will examine all the many contacts Hutton's family had with agencies including the police, social services, schools and health organisations.
Hutton was found guilty of manslaughter. She has also admitted neglecting the five school age children who were discovered in the house and another charge of preventing the burial of a corpse.
Her eldest son Tariq, 24, has also admitted preventing the burial of a corpse, he's been given a two year suspended sentence.