Bradford Couple Missing On Ben Nevis
16 February 2016, 10:53 | Updated: 30 March 2016, 13:50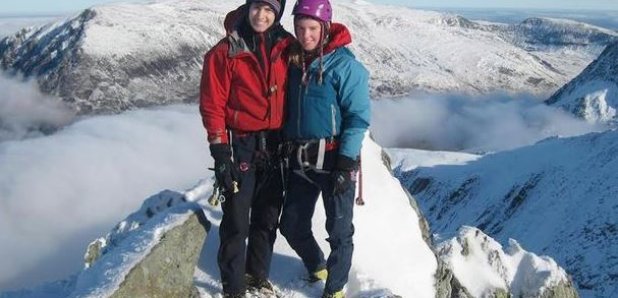 A search is underway for Rachel Slater and Tim Newton from Bradford, missing on Ben Nevis.
24 year old Rachel and 27 year old Tim are believed to have camped in a green tent behind the Charles Inglis Clark Memorial hut on Britain's highest mountain at the weekend.
A Police Scotland spokesman said:
"The Lochaber Mountain Rescue team were searching for them yesterday and they will be out again today.
They are receiving help from the RAF Mountain Rescue Team and the Search and Rescue Dog Association
The terrain does not allow for any vehicles to be used so the search is carried out on foot.''
Police are asking anyone who might have seen the two climbers to call 101.
Ms Slater is an experienced climber who is well-travelled.
In a blog, she wrote: "I've been around rocks my whole life as my parents are very keen climbers - most of my childhood was spent scrambling around at the bottom of the cliff with the occasional easy top rope.
"In 2005 my family moved to Calgary, Canada, and in 2007 I joined a youth climbing team at my local wall and in 2008 progressed to the competitive youth team.
"We trained three times a week at 6am and competed locally and nationally throughout the winter. In the summer and school holidays I sport climbed with my family in the Rockies and Western States of America.''
She left Canada in 2009 to study at the University of Manchester, from where she graduated with a BSc (Hons) in environmental science.
In September 2013, she completed a six-month contract with an environmental consultancy in Glasgow before embarking on a three-month sport climbing trip to France and Spain.
After returning again to Spain on her own to climb in Catalonia, she ``joined the grown up world of 9-5'' at the start of last year, according to her online posts.
She is currently employed as a mineral, waste and environmental consultant near Bradford.
Her firm, the Mineral Planning Group, has declined to comment on the ongoing search.
Ms Slater's profile on the firm's website says she previously worked at a number of UK consultancies specialising in intrusive ground surveys and waste management.
Mr Newton, originally from Leicester, also lives in Bradford and has studied physics at the universities of Manchester and Leeds, according to his Facebook profile.
On a climbing forum, Patrick Roman said he saw the pair at the weekend.
Writing on the forum, he said: "I was outside the CIC on Saturday morning. There were two people matching the image in the photo. He was wearing a red jacket and she a green and turquoise jacket. I went around the back of the hut to sort some of my kit out of the wind.
"The male came round a minute later and stood very close to me - I remember thinking at the time that he probably thought I was raking through the tent. I don't know if it was his tent, but he stood there for a few minutes before walking back round to the front of the hut.
"When I returned round a few minutes after that, I remember seeing the girl putting on white (?) sunglasses by the water pipe and begin heading back down the path. I started up towards Coire na Ciste and after another couple of minutes I spotted her for the last time about 100m or so further down the path.''
The Lochaber Mountain Rescue Team has posted a request for information on its Facebook page.
Responding to the message, Tony Walker wrote: "The missing persons are Rachel Slater (my niece) and her partner Tim Newton.
"Both very experienced climbers. Most likely they are wearing the same clothing as in the photo. Any info greatly appreciated.''