Wales Rugby Team Train In Front Of Fans
30 October 2013, 12:08 | Updated: 30 March 2016, 13:50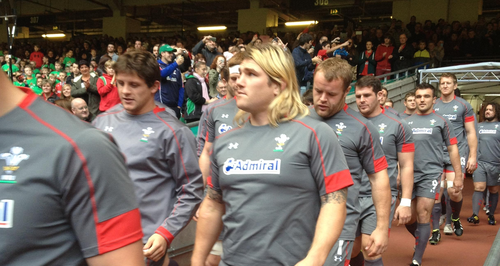 Around ten thousand rugby fans piled into the Millennium Stadium yesterday without a ticket after being treated to watch the Wales rugby team train ahead of the Autumn Internationals starting next weekend.
People of all ages including loads of children bored at home on half term this week got to see the Six Nations and Lions champions up close and personal as they geared up for the first test against South Africa on the 9th November.
There were massive cheers from the crowd as the players made their way onto the pitch. Scrum half Mike Phillips was in attendance after confirming he was sacked by his French club Bayonee. Phillips has said he will be pursuing legal action and apologised earlier this week on Twitter to his fans. He didn't speak to the media at the Millennium Stadium but has already said he's determined to put all his efforts into his Wales duties.
Wales Captain Sam Warburton did chat to Capital and told us the rest of the players are being respectful to Phillips and avoiding bringing it up in conversation.
He also officially began the Poppy Appeal for this year meeting relatives of soldiers and war veterans. Sam told Capital,
"In rugby you always say you've been through the wars, when you go on the pitch, but they've actually done it, it makes you realise when I'm going through a stressful situation on the rugby pitch, it kids of puts it into perspective when you think about what those guys have gone through and seen some terrible things, so it makes you really appreciate what you do for a living as a rugby player."
Here are the upcoming Wales fixtures for their Autumn Internationals at the Millennium Stadium
09/11 - Wales V South Africa
16/11 - Wales V Argentina
22/11 - Wales V Tonga
30/11 - Wales V Australia (Quantas Wallabies)