Malky Mackay Sacked From Cardiff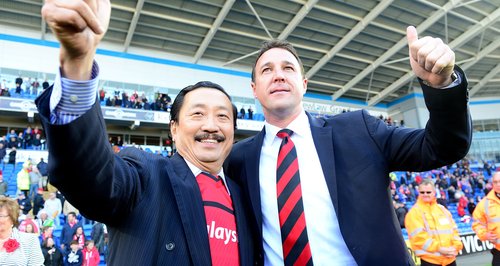 Malky Mackay says he can leave Cardiff City with his "head held high", after being sacked as manager on Friday by the club's Malaysian owner.
During his two and a half years, he led the Bluebirds to last year's League Cup final, the 2013 Championship title and a spot in the Premier League.
It comes 11 days after Vincent Tan sent him a 'resign or be sacked' email ultimatum, citing various things like his style of play.
On Boxing Day, fans staged a pre-match protest about how their boss was being treated, before which Mackay had insisted he would not leave.
The next day, following a 3-nil loss to Southampton, the club's official Twitter account delivered the news, after a meeting to discuss the situation failed to take place:
"The Board of Directors at #CardiffCity have relieved Malky Mackay of his duties. A new first team manager will be appointed in due course."
Soon after, club owner Vincent Tan released a parting statement, suggesting Malky had aired "far too much dirty linen" in public in recent months.
Back in October, his right-hand man Ian Moody left the club after claims he allegedly spent too much on new players.
Malky had wanted to buy more next month, but was refused.
Tan concluded:
''Regretfully [...] it is no longer fair to the Club, its players, its fans, or the public more generally, for this uncomfortable state of affairs to continue.
Cardiff City Football Club means far too much to us all for it to be distracted by this."
Cardiff host Sunderland at 5.30pm, with Assistant Manager David Kerslake and first-team coach Joe McBride taking over for the time being.
Manchester United legend Ole Gunaar Solskjaer is now favourite to be the next Bluebirds boss, but other names being mentioned include ex-England boss Sven Goran Eriksson.
iPhone users can voice-memo your reactions to the newsdesk at news.wales@capitalfm.com