FIFA taking action over Wales poppies
23 November 2016, 11:02 | Updated: 23 November 2016, 14:32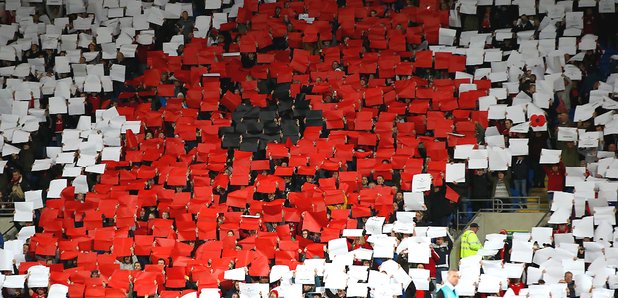 FIFA has started disciplinary proceedings against the Welsh Football Association over the display of poppy symbols during the Wales match against Serbia.
Welsh players agreed not wear poppies to mark Armistice Day during the World Cup qualifying match against Serbia.
But FIFA the ban on "political symbols" has been breached because supporters in the stands were wearing poppies.
They're also investigating the poppy mosaic that fans held up when the national anthem played, and a banner with a poppy that was displayed by fans before the match started at the Cardiff City stadium.
A FIFA spokesperson said: "The Disciplinary Committee decided to open proceedings against the Football Association of Wales in relation to incidents involving the display of poppy symbols after the Wales-Serbia match."
The FAW says it's disappointed at the decision to start disciplinary proceedings as it says fans were "paying respects to those who had made the ultimate sacrifice in a dignified and humble way".
Jonathan Ford, Chief Executive of the FAW said: 
"Naturally as an association we are disappointed and surprised at the news.
"Our intention was to show respect on Armistice weekend which we feel we did in the right and proper way. 

"We also adhered to the rules and regulations of the competition and the communication from FIFA prohibiting the FAW request for the players to wear the poppy symbol on the armbands or the field of play. 

"We are particularly disappointed that one of the charges relates to supporters in the stands wearing poppies. Naturally as an association we will strongly contest the charges." 

The English and Scottish Football Associations also defied FIFA regulations by wearing armbands featuring a poppy. FIFA has already started disciplinary proceedings against them.