Victorian Fort In Solent Opens As Luxury Hotel
23 April 2015, 07:08 | Updated: 30 March 2016, 13:50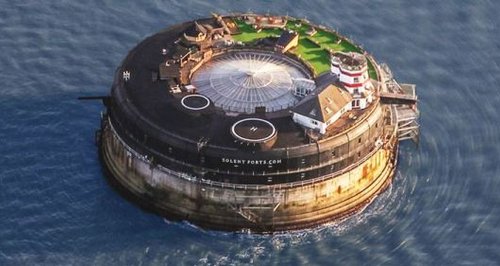 An old Victorian-era fort off the South Coast reopens today as a luxury hotel and party venue.
No Man's Fort - between Portsmouth and the Isle of Wight - was originally built in 1850 to protect Britain from the French. It's about 1.4 miles from Ryde.
It's now been converted by owners Amazing Venues and has 23 bedrooms, a helicopter pad, nightclub, laser tag, games rooms, rooftop hot tub and spa. It also has its own lighthouse, complete with glass floors on each level.
It sleeps 44 but has room for up to 200 visitors.
The fort is three times larger than nearby Spitbank Fort, which was also opened as a luxury destination by the same company in 2012.
Mark Watts, general manager of Solent Forts, said:
"It really is amazing escapism for people to feel like they've done something so different.
"The logistics are absolutely amazing. We run boats to and from the fort all day delivering supplies, then of course there are guests on and guests off."