New £2.8m Enclosure For Hampshire Zoo
28 May 2014, 13:14 | Updated: 30 March 2016, 13:50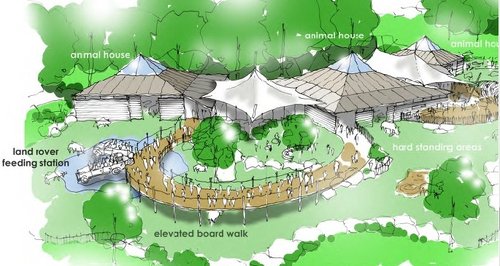 Nearly £3 million is going to be spent on a big new enclosure at Marwell Zoo near Winchester.
The new enclosure, for rhinos, oryx and zebras, will cost £2.8 million and should open in summer 2015.
The proposal is the replacement of the majority of the existing scimitar-horned oryx and Hartmann's zebra buildings with three linked new buildings to accommodate white rhinoceros, scimitar-horned oryx and Grevy's zebra.
This will involve the demolition of part of the existing buildings and replacement with new animal buildings, the retention of part of the zebra house for conversion to a new visitor toilet facility, the creation of covered exhibition and education areas between buildings, and the provision of a raised boardwalk between the buildings.
Also included in the proposal is a new children's play area, earthworks and re-contouring, the retention of the existing mature tree cover and the removal and transplanting of recently planted trees.
James Cretney, CEO, said:
"We are really excited about this upcoming project and it is the most investment Marwell has seen in decades. It's a fantastic opportunity for our guests to become more immersed in the animals' environment and observe these incredible species in both the inside and outside of their new homes. It will provide a fun, educational, and exciting exhibit for all."