Kitesurfer Dies After Getting In Trouble Off Hayling
6 March 2017, 09:11 | Updated: 6 March 2017, 09:34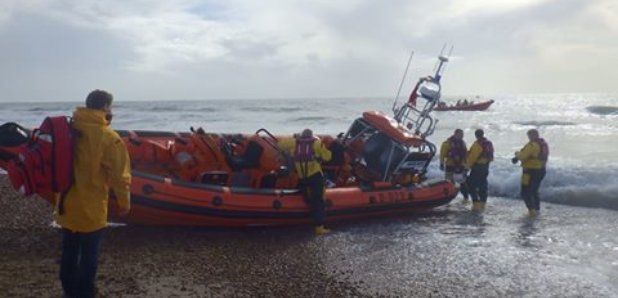 A man's died after getting into difficulties while kitesurfing off the Hampshire coast.
He was spotted by another kitesurfer off Hayling Island yesterday, and lifeboat crews got to him.
The 51-year-old man was flown to the QA Hospital in Cosham but pronounced dead on arrival.
Police say officers are supporting his family.
Hayling RNLI said:
'An experienced kite surfer was the other side of the sand bar along Hayling sea front. As a squall came through he had to drop his 15 metre kite. This was noticed by another kite surfer who saw that after the squall had passed he was having trouble. Sailing over to him he was found to be head down in the water and unconscious. With great skill the other kite surfer turned him face up and towed him and his kite towards the beach. This became more and more difficult so he was left on a yellow marker buoy 200 metres off the beach.
'One of the managers of the kite school saw this taking place and called the lifeboat station directly as she knew we would be launching a exercise. The crew were already changed, were briefed and launched within a few minutes. Due to the low tide the Atlantic 85 had to go right out to the West Pole Beacon before turning back in towards the Hayling Beach. As they arrive on scene they saw a man swimming in the water pointing to the unconscious man attached to the yellow buoy.
'The lifeboat went alongside the unconscious man, cutting him free from his kite lines and bringing him on board. They then picked up the other man from the water, ran the Atlantic 85 up the beach, placing the casualty on the beach and commencing CPR. Our honorary paramedic arrived with a defibrillator. The Coastguard helicopter arrived and landed nearby. They brought their stretcher, took over the CPR and transferred him the helicopter. They left for Queen Alexandra Hospital where he was pronounced dead.
'Portsmouth lifeboat arrived, untangled the kite from the buoy and retrieved his board. Once Hayling Lifeboat was relaunched these items were passed to Hayling lifeboat who handed them over to the coastguard once they had returned to station.'
Hampshire Police said:
'We can confirm that a 51-year-old man from Hayling Island has died. Officers are supporting his family.
'We will be liaising with the coroner.'