Isle Of Wight Undersea Turbines Plans On Show
19 March 2014, 09:12 | Updated: 30 March 2016, 13:50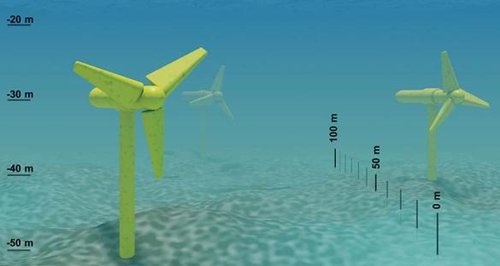 Plans are going on show later for a controversial Tidal Energy Centre off the south coast of the Isle of Wight.
Fishermen in Ventnor are worried the £1.6 million Perpetuus scheme's undersea turbines will ruin the town's fishing industry.
They held a protest against the proposals last week.

People can speak to the developers at The Spyglass Inn between 2pm and 7.30pm today (Wednesday).
Developers Perpetuus said:
"Perpetuus Tidal Energy Centre is committed to consulting with local stakeholders and communities in advance of the planning application being submitted.

"Our aim is to establish a meaningful dialogue that will help to build a shared, full and accurate understanding of PTEC; this will also enable us to respond to people's views.

"A public exhibition will be held on Wednesday 19th March 2014 between 2.00pm and 7.30pm at The Spyglass Inn, Ventnor, Isle of Wight.

"The exhibition boards that will be on display will be uploaded onto the website in due course. The exhibition will be a drop-in event and members of the development team will be on hand to answer questions about the proposals and to listen to people's views.

"We are keen to find out what you think about PTEC, so there will be feedback forms available at the exhibition."
(Picture: Perpertuus Tidal Energy Centre)