Campaign For Defibrillators Around Portsmouth
12 August 2016, 08:10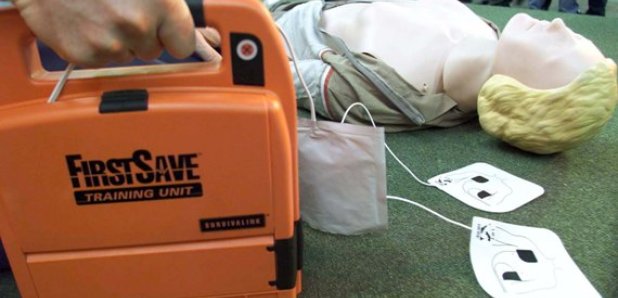 A campaign's starting to get more potentially life-saving defibrillators installed around Portsmouth.
South Central Ambulance Service and city MP Penny Mordaunt are also trying to get more people to learn how to perform CPR.
Paramedics are doing a free training session at Lakeside on Friday 12 August, from 11am-12.30pm.
Dick Tracey, Community Responder Manager at SCAS, has led a successful campaign in Oxfordshire to install more public access defibrillators (PADs) and now is extending that to Portsmouth. He also wants to encourage more local people to learn how to perform life-saving CPR or cardiopulmonary resuscitation.
Dick said: "Over the last few years, SCAS has trained over 4,000 people in Oxfordshire to perform effective CPR and installed over 400 defibrillators. We now want to repeat that success in Portsmouth and the surrounding areas.
"If you suffer a cardiac arrest, for every minute that passes your chances of survival reduce by 10%. That's why it's our aim in SCAS to get to the point where everyone in the South Central region would be within 8 minutes of their nearest defibrillator."
SCAS attends, on average, five patients in the South Central region every day who are either in cardiac arrest or who have suffered a heart attack.
Portsmouth North MP Penny Mordaunt said:
"65 people who died last year of a cardiac arrest in the Portsmouth area perhaps could have been saved if a defib or someone with knowledge of CPR was on hand.

"We are campaigning to massively increase the chances of surviving a heart attack in the Portsmouth area.

"The first phase of the campaign has been to identify and map where defibs are in the city and SE ambulance service now have this information available to their 999 call handlers.

"Today we are launching the next phase of the campaign- to get as many people as possible learning how to use a defib and how to do CPR. We are doing a mass training session at lakeside North harbour to launch his part of the campaign. There will be an ongoing training programme for anyone in the city who wants to learn provided by the ambulance service and other training providers.

"The next stages will be to increase the number of defibs available in the city and fundraising to fill the gaps. We are also doing some work with our schools and colleges.

"It is not difficult to be a life saver and I hope many people will step forward to discover just how easy it is."