£50k Burglary In Clanfield Could Be Linked To Another
13 January 2017, 07:39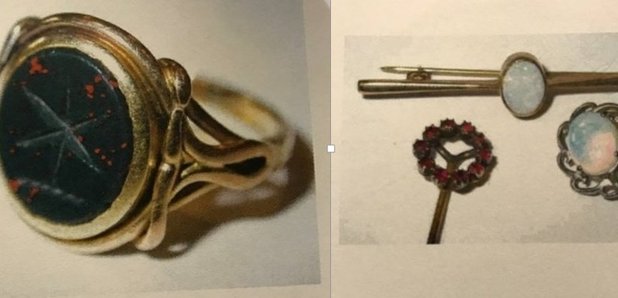 Police are looking into whether two burglaries in Hampshire are linked - including one where £50,000 of jewellery was stolen.
A safe was taken from a house in Clanfield on Monday - the same day another was stolen during a break-in in nearby Horndean.
At some point between 6:30am and 7:40pm on Monday 9 January, someone broke into a house at Merritt Place in Clanfield. A safe containing more than £50,000 of jewellery was stolen - nothing else was taken. The safe along, with some property, has subsequently been recovered in One Hundred Acre wood.

Police are now investigating whether this burglary is linked to another break-in on Keydell Avenue in Horndean between 7:10am and 3:20pm on the same day. A grey freestanding safe containing gold and diamond jewellery, a distinctive elephant hair bracelet, and matching earrings, was taken.
Anyone who saw anything suspicious at either address or in One Hundred Acre Wood on Monday should call Police Staff Investigator Hannah Hamper ay Fratton Police Station on 101, quoting 44170010565, or via the website http://www.hampshire.police.uk/internet/do-it-online/online-forms/message-for-officer.html
You can also call the charity Crimestoppers line on 0800 555 111 where information can be left anonymously.
Minicom users should call 01962 875000.
Hampshire Police say they'd like to take this opportunity to remind people of the following crime prevention advice:

General home and outbuilding security

- Ensure all doors and windows are shut and locked when not in use.
- Ensure windows and door frames are in good repair.
- Fit adequate locks to sheds, garages and outbuildings and consider fitting shutters or grilles to windows, or blocking them completely
- Fit good quality window locks
- Consider fitting a monitored home intruder alarm
- Check security equipment regularly to ensure it works properly.

Security lighting

- Install automatic security lights that come on at dusk and go off at dawn.
- Help make your property look occupied by fitting timer switches to lamps in different rooms and set them to come on at staggered times.
- Make sure the manufacturer's instructions are adhered to at all times when using electrical security devices.

CCTV and intruder alarms

- Consider installing CCTV to provide formal surveillance to the most vulnerable areas of the property.
- Consider installing an audible and monitored intruder alarm system.